Family Sagas: Stories of Scandinavian Immigrants

- 096616931X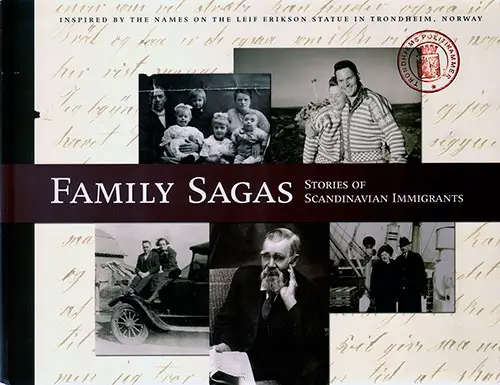 Kristine Leander, Family Sagas: Stories of Scandinavian Immigrants, © 1997 Scandinavian Language Institute, Seattle, Softbound, 226 Pages, 0-9661693-1-X,
Inspired by the Names on the Leif Erikson Statue in Trondheim, Norway.
THE MAKING OF HEROES
Throughout history, men, women and families have ventured from their homelands in search of adventure, opportunity or the possibility of a better life. This book is a collection of names, faces and stories of immigrants who left Scandinavia for the promise of America. At its core are the people whose names appear on bronze plaques surrounding the statue of Leif Erikson in Trondheim, Norway. This special compilation offers a fascinating glimpse into their lives while honoring the spirit of individuals everywhere who have immigrated to unknown lands, their sails filled with hope and courage.
"I never met my grandmother. She died in 1939, many years before I was born. But her legacy to me has been filled with the richness of courage to carry on in the face of hardship, complete trust in the Almighty and a deep love for all things Norwegian."
Cheryl Hoiseth, Evanston, Illinois, 1996.
TABLE OF CONTENTS
FOREWORD
by Garrison Keillor
PREFACE
by Thomas A. DuBois, University of Washington
PROLOGUE
A toast at the Riverdog Fine Arts Foundry during the pouring of the statue
INTRODUCTION
by Kristine Leander
THE NAMES, FACES AND STORIES
APPENDICES

The Sagas of Leif Eiriksson and the Royal City of Trondheim
by Rolf Grankvist, University of Trondheim
The Land They Left Behind: Norway During the Time of Emigration
by Terje I. Leiren, University of Washington
Hanna's Letter Home
by Hanna Torstensen
What's in a Name?
by Edward Egerdahl, Scandinavian Language Institute
The List of Names on the Leif Erikson Statue
Skal!

Library of Congress Catalog Listing
LC control no.:
98124333
Type of material:
Book (Print, Microform, Electronic, etc.)
Main title:
Family sagas : stories of Scandinavian immigrants : inspired by the names on the Leif Erikson statue, Trondheim, Norway / Kristine Leander, editor.
Edition:
1st ed.
Published/Created:
Seattle, Wash. : Scandinavian Language Institute, 1997.
Related names:
Leander, Kristine.
Scandinavian Language Institute.
Description:
xi, 226 p. : ill.; 22 x 28 cm.
ISBN:
096616931X
Notes:
Includes bibliographical references (p. iv).
Subjects:
Norwegian Americans --Biography.
Immigrants --United States --Biography.
Immigrants --Norway --Biography.
United States --Emigration and immigration --History.
Norway --Emigration and immigration --History.
LC classification:
E184.S2 F36 1997
Dewey class no.:
973/.043982/00922
Geographic area code:
e-no--- n-us---