Startcraft Wander-Star Travel Trailers (1973)
When the funny stories you share are about your travels and not about your travel trailer, it was probably built with Starcraftsmanship.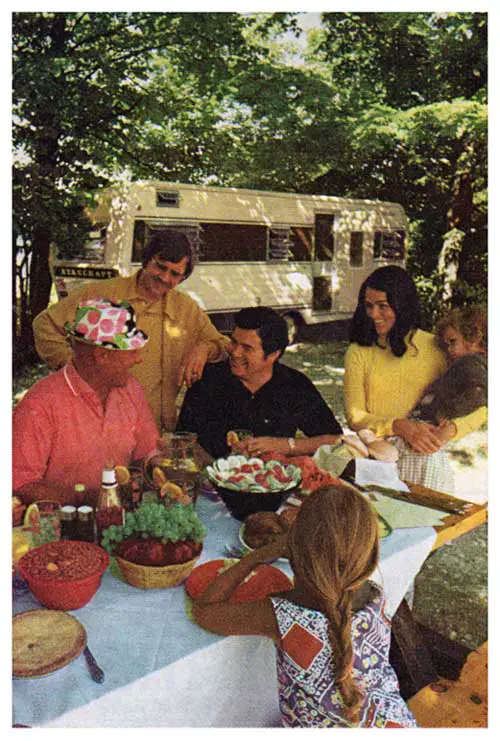 There's something mechanical about the stories most people tell about their travel trailers.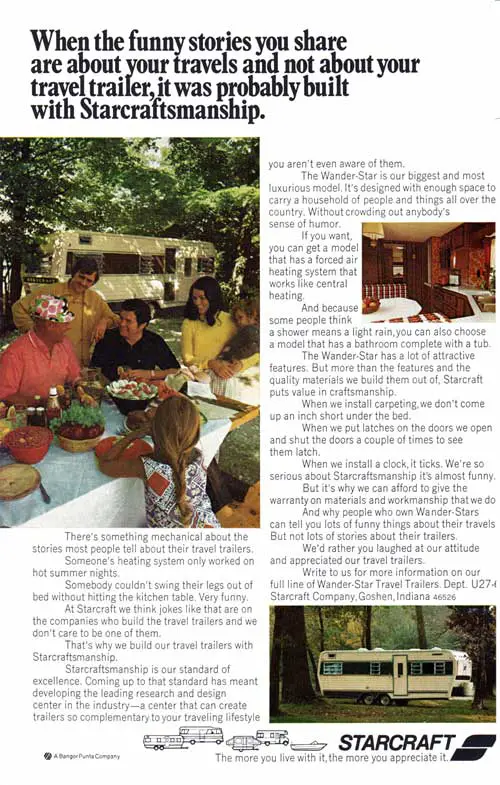 Someone's heating system only worked on hot summer nights.
Somebody couldn't swing their legs out of bed without hitting the kitchen table. Very funny.
At Starcraft we think jokes like that are on the companies who build the travel trailers and we don't care to be one of them.
That's why we build our travel trailers with Starcraftsmanship.
Starcraftsmanship is our standard of excellence.
Coming up to that standard has meant developing the leading research and design center in the industry—a center that can create trailers so complementary to your traveling lifestyle you aren't even aware of them.
The Wander-Star is our biggest and most luxurious model. It's designed with enough space to carry a household of people and things all over the country. Without crowding out anybody's sense of humor.
If you want, you can get a model that has a forced air heating system that works like central heating.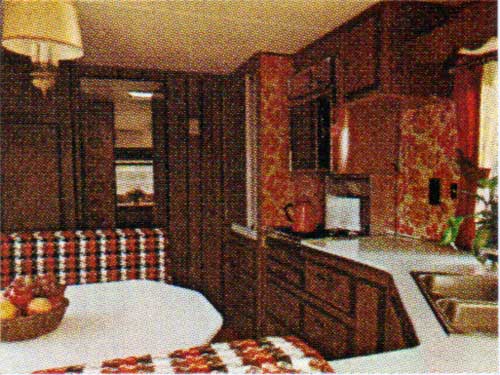 And because some people think a shower means a light rain,you can also choose a model that has a bathroom complete with a tub.
The Wander-Star has a lot of attractive features. But more than the features and the quality materials we build them out of, Starcraft puts value in craftsmanship.
When we install carpeting, we don't come up an inch short under the bed.
When we put latches on the doors we open and shut the doors a couple of times to see them latch.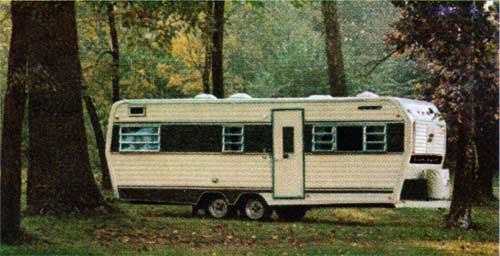 When we install a clock, it ticks. We're so serious about Starcraftsmanship it's almost funny.
But it's why we can afford to give the warranty on materials and workmanship that we do.
And why people who own Wander-Stars can tell you lots of funny things about their travels But not lots of stories about their trailers.
We'd rather you laughed at our attitude and appreciated our travel trailers.
Write to us for more information on our full line of Wander-Star Travel Trailers.
The more you live with it, the more you appreciate it.
Starcraft Company, Goshen, Indiana 46526
STARCRAFT
Goshen, Indiana 46526
A Bangor Punta Company
GG Archives REF: BPSTR-015-1973-C-AD