Starcraft's New Polaris 16. Closest Thing To A Sports Car On Water. (1968)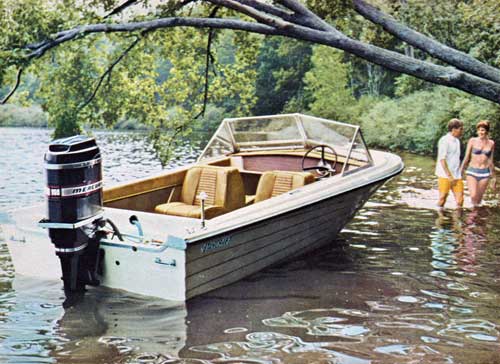 The Construction
Start with superb appointments … plush right down to the vinyl covered floor.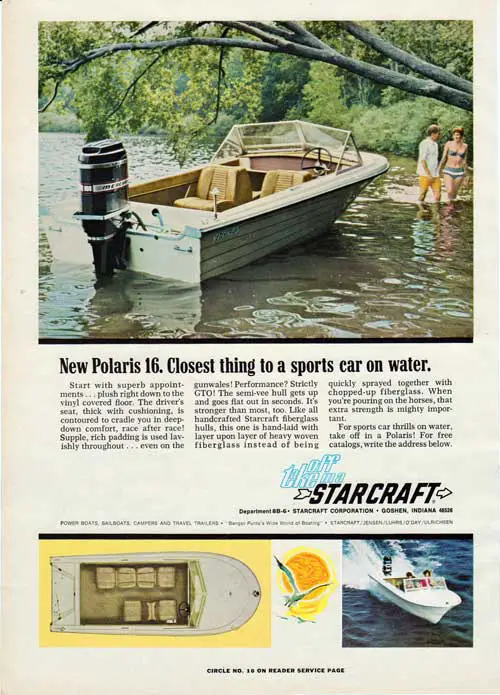 The driver's seat, thick with cushioning, is contoured to cradle you in deep-down comfort, race after race!
Supple, rich padding is used lavishly throughout … even on the gunwales!
This Powerboat Performs!
Performance? Strictly GTO! The semi-vee hull gets up and goes flat out in seconds. It's stronger than most, too.
Like all handcrafted Starcraft fiberglass hulls, this one is hand-laid with layer upon layer of heavy woven fiberglass instead of being quickly sprayed together with chopped-up fiberglass. When you're pouring on the horses, that extra strength is mighty important.
For sports car thrills on water, take off in a Polaris! For free catalogs, write the address below.
Take Off In A Starcraft
Above: The Polaris 16 Powerboat looks great, even when anchored off shore.
Below: A view from the top - the Polaris 16 from Starcraft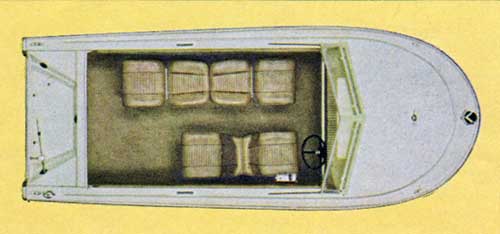 Bangor Punta's Wide World of Boating
STARCRAFT / JENSEN / LUHRS / O'DAY / ULRICHSEN
STARCRAFT
Power Boats, Sailboats, Campers and Travel Trailers
Goshen, Indiana 46526
A Bangor Punta Company
GG Archives REF: BPSTR-007-1968-C-AD