SuperSport™ 18: Ski-About, Fish-About, Runabouts (1978)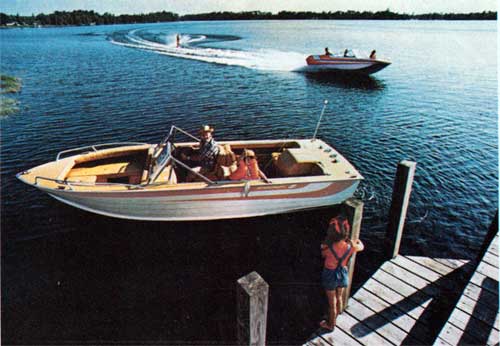 With Starcraft, you've got a good thing going
The SuperSport TM 18 is our basic aluminum runabout.
The open bow and cockpit let you make it just about anything you want it to be: a fishing boat, a ski boat, a family fun boat.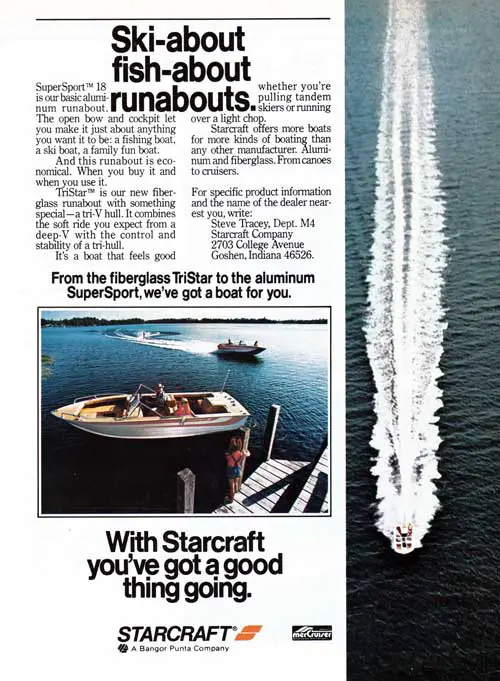 And this runabout is economical. When you buy it and when you use it.
TriStar™ is our new fiberglass runabout with something special -- a tri-V hull. It combines the soft ride you expect from a deep-V with the control and stability of a tri-hull.
It's a boat that feels good whether you're pulling tandem skiers or running over a light chop.
Starcraft offers more boats for more kinds of boating than any other manufacturer. Aluminum and fiberglass. From canoes to cruisers.
For specific product information and the name of the dealer nearest you, write:
Steve Tracey, Dept. M4 Starcraft Company, Goshen, Indiana 46526.
From the fiberglass TriStar to the aluminum SuperSport, we've got a boat for you.
With Starcraft, you've got a good thing going.
STARCRAFT®
A Bangor Punta Company
GG Archives REF: BPSTR-004-1978-C-AD