Starcraft TR-150 Fiberglass Sportabout Outboard Boat (1970)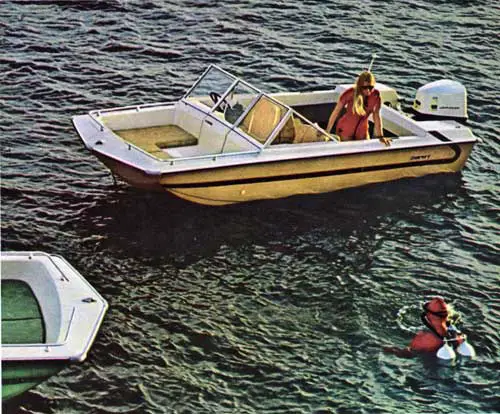 Rumble Seat In Front, Sedan in Back.
We all have a built-in fun meter.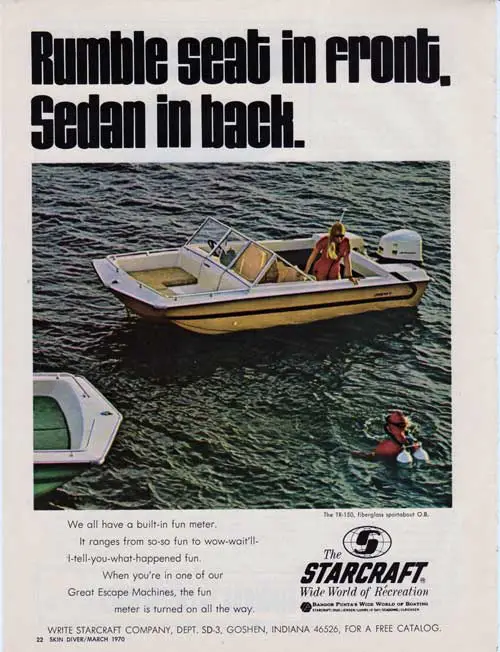 It ranges from so-so fun to wow-wait-till-I-tell-you-what-happened fun.
When you're in one of our Great Escape Machines, the fun meter is turned on all the way.
Scuba Divers discover the Starcraft TR-150 fiberglass sportabout with outboard motor. This powerboat will get you where you need to be.
The TR-150, Fiberglass Sportabout O.B.
Starcraft Wide World of Recreation
BANGOR PUNTA'S WIDE WORLD OF BOATING
Starcraft / DUO / Jensen / Luhrs / O'Day / Seagoing / Ulrichsen
STARCRAFT
Goshen, Indiana 46526
A Bangor Punta Company
GG Archives REF: BPSTR-008-1970-C-AD