Starcraft Trail Star Camper - Easy Towing (1974)
Starcraftsmanship means you can own a camper that's easier to tow. So it adds to your gas mileage. And your vacation.
Introducing Starcraft's new Trail Stars. The compact campers made for people who drive small cars. They're budget-priced and easy to tow. So you save money. And gas. Yet they offer most of the comfort and convenience of our full-size campers.
That's the way it is with Starcraftsmanship. Building products that actually give you more than you pay for.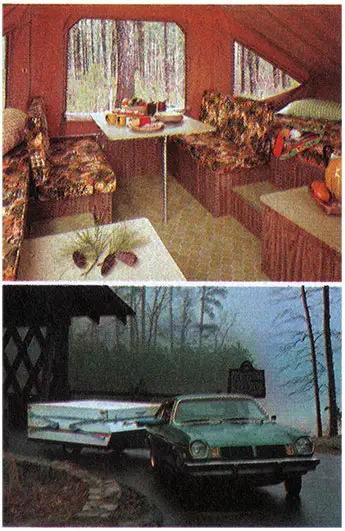 Top: View of Interior of Camper; Bottom: Small Car Towing a Starcraft Camper.
In our new Trail Stars, Starcraftsmanship means giving you features like a fully insulated hard top. Walls that are 4-ply structural sandwiches. Large storage cabinets. And sleeping space for four. Or six. Depending on the model or options you choose.
There's even a sink with water system, ice box and portable 2-burner gas stove on our XL model.
Starcraftsmanship means you get a 12 month warranty against defects in materials and workmanship.
Finally, it means service from any of more than 1,000 dealers and 33 distributor centers nationwide.
So you see, Starcraftsmanship is really a guarantee. A guarantee of good times.
There are 2 Trail Stars available. 11 different Starcraft campers in all, including Galaxy and Stardust Swinger models with swing-out kitchen consoles that let you cook indoors or out. See them at your nearest dealer.
And get more mileage out of your vacation this year.
STARCRAFT
Goshen, Indiana 46526
A Bangor Punta Company
GG Archives REF: BPSTR-042-1974-C-AD