Starcraft Pop-Up Tent Camper Trailers (1970)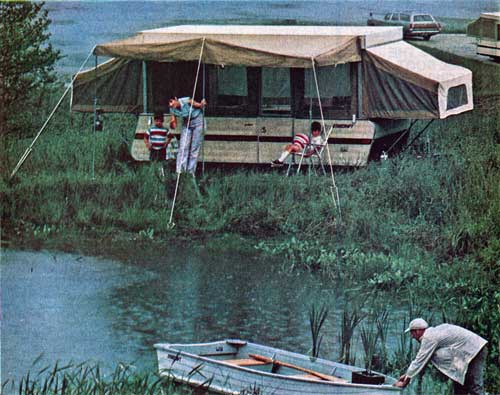 We made the fishing widow obsolete.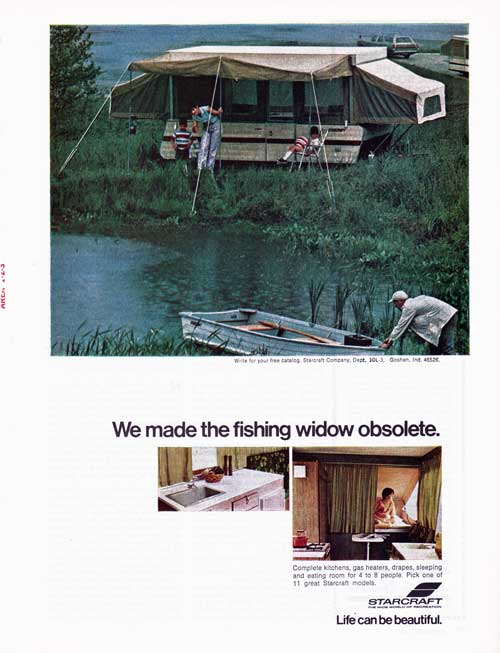 Enjoying a relaxing afternoon camping by the lakeshore. The Starcraft Pop-Up Camper Trailer was easy to haul, set-up, and take-down.
Both ends housing the beds, pushed into the mid section with the protective top that cranked down (using a hand crank) to seal while transporting to a new destination.
Comfortably accommodated 4 adults or 2 adults, 2 children.
Complete kitchens, gas heaters, drapes, sleeping and eating room for 4 to 8 people. Pick one of 11 great Starcraft models. 4.1 W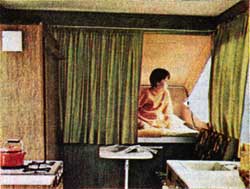 View of main living area with Propane Stove on left, sink and counter on right, dining area and sleeping alcove.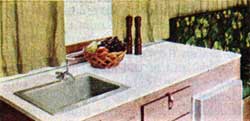 Kitchenette including sink, small refrigerator, and drawers were standard on the Starcraft Pop-Up Camper Trailers of 1970.
Write for your free catalog. Starcraft Company, Goshen, Indiana 46526.
STARCRAFT
The Wide World Of Recreation | Life can be beautiful
Goshen, Indiana 46526
A Bangor Punta Company
GG Archives REF: BPSTR-019-1970-C-AD