The New Starcraft Round Livestock Feeder (1971)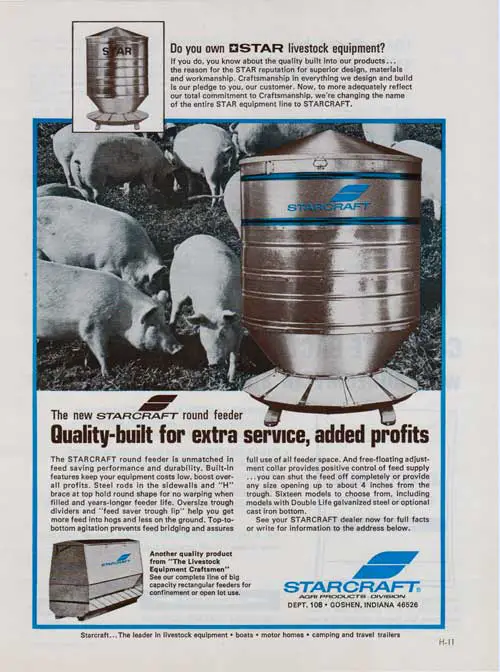 Do you own STAR livestock equipment?
If you do, you know about the quality built into our products... the reason for the STAR reputation for superior design, materials and workmanship.
Craftsmanship in everything we design and build is our pledge to you, our customer.
Now, to more adequately reflect our total commitment to Craftsmanship, we're changing the name of the entire STAR equipment line to STARCRAFT.
Quality-Built for Extra Service, Added Profits
The STARCRAFT round feeder is unmatched in feed saving performance and durability.
Built-in features keep your equipment costs low, boost overall profits. Steel rods in the sidewalls and "H" brace at top hold round shape for no warping when filled and years-longer feeder life.
Oversize trough dividers and "feed saver trough lip" help you get more feed into hogs and less on the ground. Top-tobottom agitation prevents feed bridging and assures full use of all feeder space.
And free-floating adjustment collar provides positive control of feed supply ...you can shut the feed off completely or provide any size opening up to about 4 inches from the trough.
Sixteen models to choose from, including models with Double Life galvanized steel or optional cast iron bottom.
See your STARCRAFT dealer now for full facts or write for information to the address below.
Another quality product from "The Livestock Equipment Craftsmen"STARCRAFT®. See our complete line of big AGRI PRODUCTS capacity rectangular feeders for confinement or open lot use.
Did You Know Starcraft manufactured a broad line of hog, cattle, sheep and horse feeding, watering and handling equipment and was known as the Starcraft Agri Products Division.
Starcraft … The leader in livestock equipment • boats • motor homes • camping and travel trailers. Goshen, Indiana 46526
A Bangor Punta Company
GGA REF: BPSTR-033-1971-C-AD