Starcraft Capri Tri-Hull Bowrider (1973)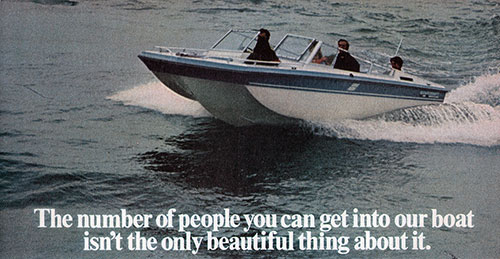 It's beautiful how many people you can get into a tri-hull bowrider. But, for most tri-hulls, that's where the beauty ends. They're about as exciting to look at as an old washtub.
At Starcraft, we make our bowriders beautiful to look at as well as comfortable to sit in. We call it Starcraftsmanship. The standard of excellence that sets a Starcraft apart from any other boat. And designers, engineers and craftsmen dedicated to the proposition that bowriders can be beautiful as well as practical.
Take Our 20' Capri, for Example.
The simple fact is that it's the best-looking tri-hull made. It's got a white and dark blue exterior, a white deck and a sky-blue interior. Inside, the Capri is loaded with luxurious features. There's a fully instrumented automotive-type dash. (I.O. only. - Shown in insert on bottom middle)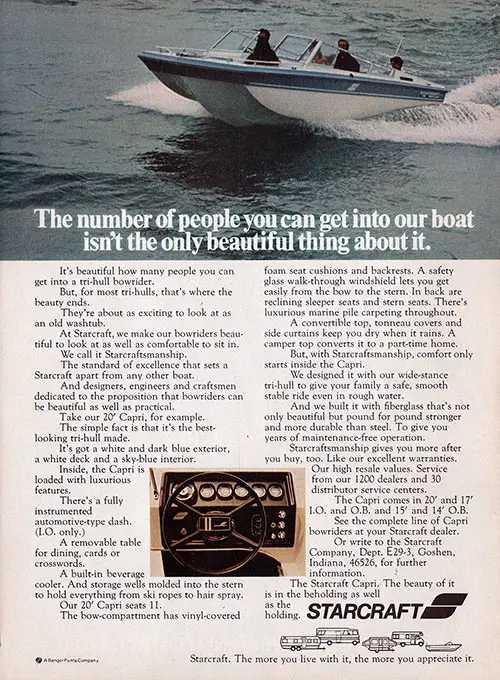 A removable table for dining, cards or crosswords. A built-in beverage cooler. And storage wells molded into the stern to hold everything from ski ropes to hair spray.
Our 20' Capri seats 11. The bow-compartment has vinyl-covered foam seat cushions and backrests.
A safety glass walkthrough windshield lets you get easily from the bow to the stern. In back are reclining sleeper seats and stern seats. There's luxurious marine pile carpeting throughout.
A convertible top, tonneau covers and side curtains keep you dry when it rains. A camper top converts it to a part-time home. But, with Starcraftsmanship, comfort only starts inside the Capri.
We designed it with our wide-stance trihull to give your family a safe, smooth stable ride even in rough water. And we built it with fiberglass that's not only beautiful but pound for pound stronger and more durable than steel. To give you years of maintenance-free operation.
Starcraftsmanship gives you more after you buy, too. Like our excellent warranties. Our high resale values. Service from our 1200 dealers and 30 distributor service centers.
The Capri comes in 20' and 17' 1.0. and O.B. and 15' and 14'. O.B.
See the complete line of Capri bowriders at your Starcraft dealer. Or write to the Starcraft Company, Goshen, Indiana, 46526, for further information.
The Starcraft Capri. The beauty of it is in the beholding as well as the holding.
Starcraft. The more you live with it, the more you appreciate it.
STARCRAFT
Goshen, Indiana 46526
A Bangor Punta Company
GG Archives REF: BPSTR-041-1973-C-AD