Starcraft Travel Star 240 Travel Trailer (1977)

The Travel Star 240's sturdy suspension lets you take it practically anywhere.
Starcraft Introduces The Travel Stars -- The quality you expect from Starcraft for $1,000 less than you'd expect to pay.
Our newest travel trailers are built with the quality that you expect from Starcraft—but the price is up to $1,000 less than you might expect to pay. Our new 25-foot Travel Star sells for under $5.000* Our 21 for less than $4,500*
How do we do it?
Not by cutting back on the essentials. We refuse to cut corners on the things that make our trailers strong—and that help to keep you safe.
Strong on the Essentials
Take our trailer chassis. No skimping here. It's a solid grid of four-inch steel box girders. Most other builders make do with less. But at Starcraft we know a chassis has to stand up to rugged use.
Fully Equipped Kitchen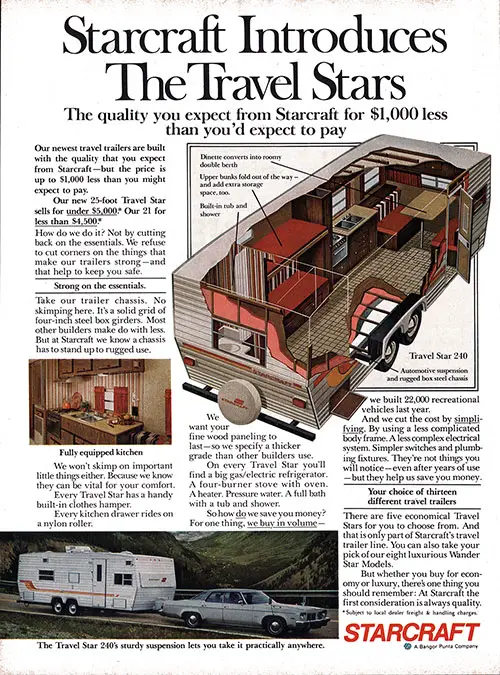 We won't skimp on important little things either. Because we know they can be vital for your comfort.
Every Travel Star has a handy built-in clothes hamper. Every kitchen drawer rides on a nylon roller.
We want your fine wood paneling to last—so we specify a thicker grade than other builders use.
On every Travel Star you'll find a big gas/electric refrigerator. A four-burner stove with oven. A heater. Pressure water. A full bath with a tub and shower.
So how do we save you money?
For one thing, we buy in volume—we built 22,000 recreational vehides last year.
And we cut the cost by simplifying. By using a less complicated body frame. A less complex electrical system. Simpler switches and plumbing fixtures. They're not things you will notice—even after years of use — but they help us save you money.
Your Choice of Thirteen Different Travel Trailers
There are five economical Travel Stars for you to choose from. And that is only part of Starcraft's travel trailer line. You can also take your pick of our eight luxurious Winder Star Models.
But whether you buy for economy or luxury, there's one thing you should remember: At Starcraft the first consideration is always quality.
* Subject lo local dealer freight & handling charges.
Features of the Travel Star 240
Dinette Converts into Roomy Double Berth
Upper Bunks Fold out of the Way — and Add Extra Storage Space, Too
Built-In Tub and Shower
Automotive Suspension and Rugged Box Steel Chassis
Starcraft Introduces the Sky
Now you can eat and sleep under the stars in our travel trailers and mini-motor homes. And let the outside in.
It all happened because on of our marketing people bought a car with a T-bar roof. He was deriving to work one day thinking what a nifty idea te T-bar was when he had another nifty idea: StarDome.
Like our SwingOut kitchens and StarRide automatic camper lift system. StarDome is changing recreational vehicle living. Making it more comfortable. More Convenient. And more fun.
Every year for the past ten, more of our campers have hit the road than those of any other manufacturer. There's a Starcraft camper, travel trailer, mini-motor home, or van that can help you make the most of your leisure time.
And when you own a Starcraft recreational vehicle, you can join our Camper Club. Enjoy weekend rallies, great outing, meet people like you.
Send along 25c and we'll forward a copy of The First-Timer's Guide to Camping. It will easy you into one of the best times you'll have.
For the name of your Starcraft dealer and information on the Camper Club, write: Steve Tracey, Dept. R5, Starcraft Company, Goshen, Indiana 46526

STARCRAFT
Goshen, Indiana 46526
A Bangor Punta Company
GG Archives REF: BPSTR-040-1977-C-AD