Starcraft Cruisers for 1974 - Good Times Guaranteed (1973)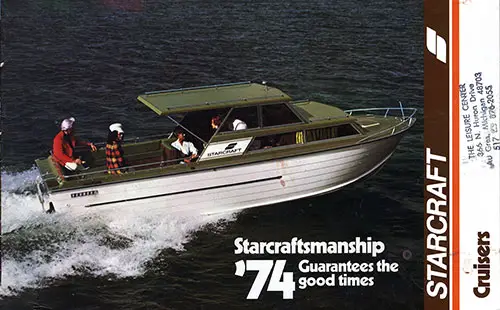 You and your family buy a boat for one reason ... to have a good time. The better the boat, the better time you have.
This brochures features the following Starcraft Cruising Boats:
Chieftain 24 Mark IV
Chieftain 24 Mark IV Express
Islander 21
Islander 21 Mark IV
Chieftain 18
At Starcraft we recognized that simple fact when we first began manufacturing boats in 1923. And we've never forgotten it. That's why we build each boat with Starcraftsmanship.
Starcraftsmanship is a philosophy shared by everyone at Starcraft and it becomes a reality in a careful, meticulous design and manufacturing process. We begin by talking to people, like yourself, who tell us how they use the product, what they want and need.
This invaluable input goes to Starcraft engineers in our research and design center who combine their ingenuity and your expressed needs into exciting and down-to-earth designs.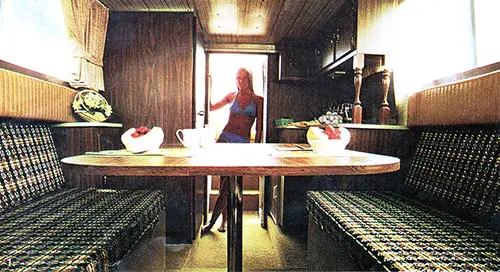 This ingenuity in design is why Starcraft consistently introduces major industry innovations like the first one piece aluminum bottom and the first concave V hull.
Next is a step we call human engineering. We take a good look, to make sure we've correctly interpreted your needs. And we work to refine each new design to give you the greatest comfort and convenience and beauty in the space available.
After that, dedicated craftsmen complete each step of construction using the best materials and component parts. Then, in a series of inspections, they check and re-check to make certain you get every bit of value you pay for.
But Starcraftsmanship doesn't stop at the end of the assembly line. There is a nationwide network of dealers who'll help you select the one boat that's right for your family, And help you after the sale if you need service.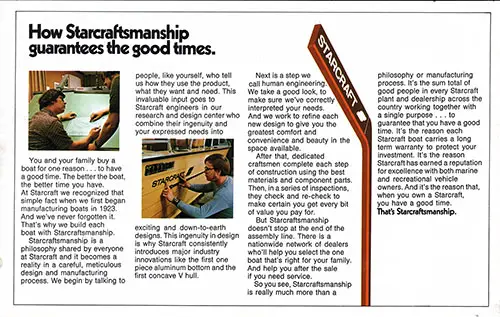 So you see, Starcraftsmanship is really much more than a philosophy or manufacturing process. It's the sum total of good peopfe in every Starcraft plant and dealership across the country working together with a single purpose ... to guarantee that you have a good time.
It's the reason each Starcraft boat carries a long term warranty to protect your investment. It's the reason Starcraft has earned a reputation for excellence with both marine and recreational vehicle owners. And it's the reason that, when you own a Starcraft, you have a good time. That's Starcraftsmanship.
Standards & Options, Specifications, and Color Chart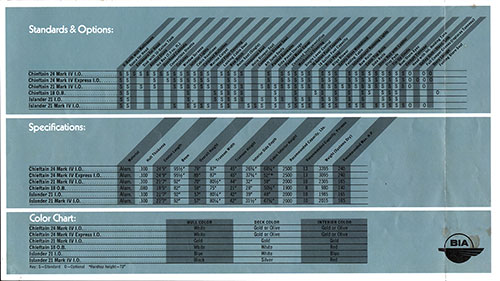 Click on image for larger view.
How We Build the Good Times into Every Starcraft Cruiser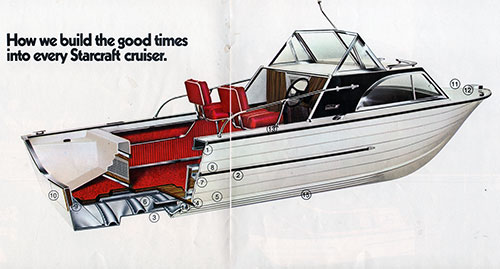 We start by forming the hull and decks of 5052 marine aluminum (similar to that used in the world's most expensive cruisers and yachts). This material was chosen because it's lightweight, ottering a tavorabie power-to-weight ratio. It's also fireproof, resistant to puncture under impact and corrosion resist ant. In (act. it's so good we guarantee it tor 15 years against metal fatigue, cracks and popped rivets in normal use.
Lapstraking is rolled into hull sides to add strength, spray control and styling appeal without adding weight.
The one-piece bottom (a Starcraft original) eliminates a center keel seam.
Seams at the chine are sealed with rubber tape and liquid sealer, then double-riveted lor 15 years ot guaranteed leak-proof operation.
Spray rails are rolled into the chine to deflect spray away trom the boat.
Hull metal is unitized to exterior keels and interior ribs by solid aluminum rivets in aircraft-type construction making the hull strong, yet light in weight.
A vinyl-base high gloss enamel is applied over a special acid etch primer for maximum adhesion and beauty.
Exterior hull bumper rails are joined with interior side storage racks to provide additional side support between gunwale and chine.
The transom is constructed ot heavy-gauge aluminum reinlorced by 1 1/2" exterior grade plywood and a knee support (on the outboard model) riveted to the keel tor maximum strength.
On the outboard model, a plywood motor mount is added to the outside of the transom lo reduce vibration and noise.
Deck framng is held m place with stainless steel bona, aircraft-type nuts and aluminum angles lor long-lasting durability.
Foam padding under decks further reduces vibration and noise.
Anodized aluminum extrusions with vinyl bumper inserts are added to gunwales for strength and protection.
Positive Dotation material not only meets, but exceeds B.I.A. dotation standards.
The concave V hull (another Starcraft original) has a sharp V center to cut through the waves The V is flared toward the chine to ratam lift and stability
Chieftain 24 Mark IV & 24 Mark IV Express.
Never before could so many afford so much. Owning a big, comfortable cruiser used to be a luxury only the very rich could afford. But no longer. Because now Starcraft offers two big 24-foot cruisers priced thousands less than cruisers with similar features and room.
The Chieftain 24 Mark IV has a fully-enclosed cabin complete with galley, sleeping room for a family of four and an enclosed space for a marine head. Our new Chieftain 24 Mark IV Express offers the same kind of luxury with a huge open cabin area, from the V-berths to the aft deck, that's big enough for a party.
And both cruisers are easily trailerable, so you can take them anywhere. That's Starcraftsmanship.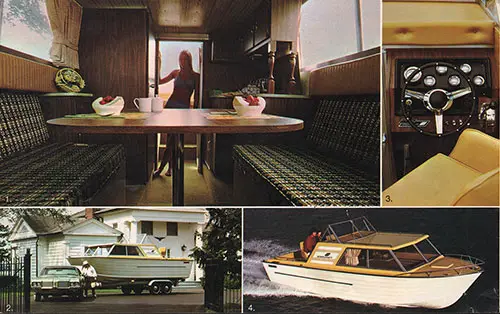 Above:
Interior, Chieftain 24 Mark IV
Chieftain 24 Mark IV is trailerable
Helm with command instrumentation
Chieftain 24 Mark IV.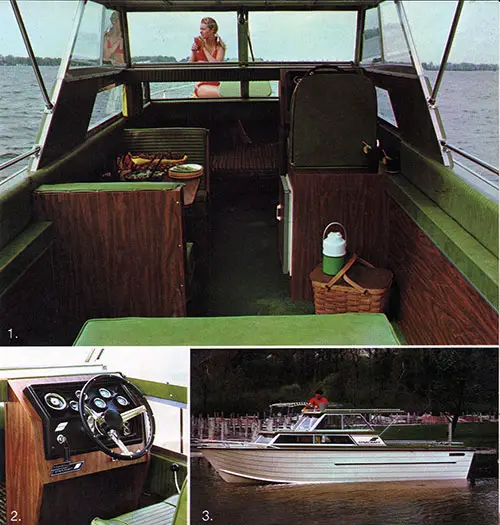 Above:
Interior, Chieftain 24 Mark IV Express
Helm with command instrumentation
Chieftain 24 Mark IV Express
Chieftain 21 Mark Iv. Big Cruiser Luxury and Convenience in 21 Feet of Space.
It sounds impossible, but we did it. We took the room and features of bigger cruisers and designed them into a 21-foot hull. The result is a cruiser that's easy to handle, completely trailerable and truly luxurious.
For instance, the cabin of our Chieftain 21 Mark IV features full length double V-berths, ice locker, sink with water system, curtains, sliding windows with screens and space for a marine head.
There's even marine pile carpeting and an optional camper top that allows room for sleeping in the large aft cockpit. That's Starcraftsmanship.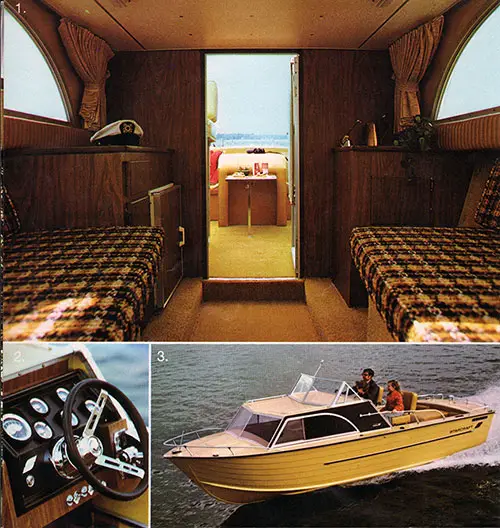 Above:
Interior, Chieftain 21 Mark IV
Helm with command instrumentation
Chieftain 21 Mark IV.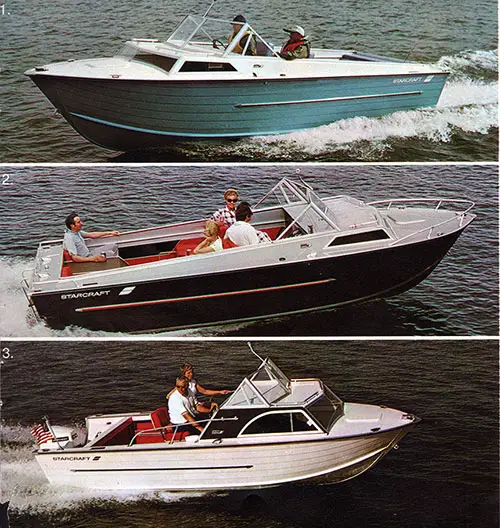 Above:
Islander 21
Islander 21 Mark IV
Chieftain 18
Islander 21 & 21 Mark IV. Half Cruiser. Half Runabout. All Enjoyment.
An Islander is a boat with a dual personality, offering the comfort of a cruiser and the versatile performance of a runabout.
For instance, the Islander 21 has a cuddy cabin with completely cushioned V-berths for sitting or sleeping. So you stay snug whether you're weathering a storm or spending the night. And its big I.O. engine is powerful enough for any on-water activity.
Our new Islander 21 Mark IV takes up where the 21 leaves otf by adding luxury features like curtains, marine carpeting, sleeper seats and more. And because both Islanders are built with Starcraftsmanship, they're durable, economical and 100% trailerable. That's Starcraftsmanship.
Chieftain 18. Cabin Cruiser Luxury on a Runabout Budget.
If you can afford a runabout, you can afford our Chieftain 18. But don't let its runabout price fool you. The Chieftain 18 is all cruiser. Its cushioned cabin features sliding windows, space for a marine head and a locking cabin door. And, like all Starcraft cruisers, it's trailerable anywhere. That's Starcraftsmanship.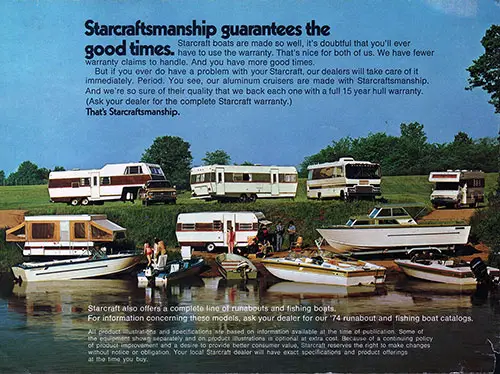 Starcraftsmanship Guarantees the Good Times
Starcraft boats are made so well, it's doubtful that you'll ever have to use the warranty. That's nice for both of us. We have fewer warranty claims to handle. And you have more good times.
But if you ever do have a problem with your Starcraft, our dealers will take care of it immediately. Period. You see, our aluminum cruisers are made with Starcraftsmanship. And we're so sure of their quality that we back each one with a full 15 year hull warranty.
(Ask your dealer for the complete Starcraft warranty.) That's Starcraftsmanship.
Starcraft also offers a complete line of runabouts and fishing boats. For information concerning these models, ask your dealer for our '74 runabout and fishing boat catalogs.
All product illustrations and specifications are based on information available at the time of publication. Some of the equipment shown separately and on product illustrations is optional at extra cost.
Because of a continuing policy of product improvement and a desire to provide better consumer value, Starcraft reserves the right to make changes without notice or obligation.
Your local Starcraft dealer will have exact specifications and product offerings at the time you buy.
1973 © Starcraft Company. Goshen, Indiana 46526 | Printed in U.S.A.
STARCRAFT
Goshen, Indiana 46526
A Bangor Punta Company
GG Archives REF: BPSTR-047-1973-C-BR