Starcraft Swing-Up Camper Models (1971)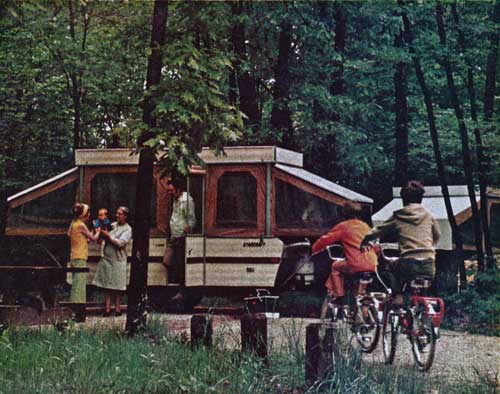 Life can be beautiful. Life is Good.
The excitement of a new neighborhood. Every time you set up.
Swing-up kitchen consoles, roomy wardrobe closets, reversible cushions.
Before you buy a camper, think what you're buying it for. To see the sunset on the ground instead of on your neighbor's garage. To show your kids that all wild animals don't live in zoos.
Whatever reason you come up with, one thing is clear.You don't buy a camper for the camper.You buy it for the trip. At Starcraft we never forget that fact. That's why we build campers that call more attention to your trip than they do to themselves. It takes Starcraftsmanship.
Starcraftsmanship Is Our Standard of Excellence
Coming up to that standard has meant developing the leading research and design center in the industry.
We've designed the telescopic lifter system so you can spend five minutes setting up camp and a day enjoying it. Not the other way around.
We designed the 35" high kitchen sink so when the sun sets you can watch it without an aching back that you got bending over the supper dishes.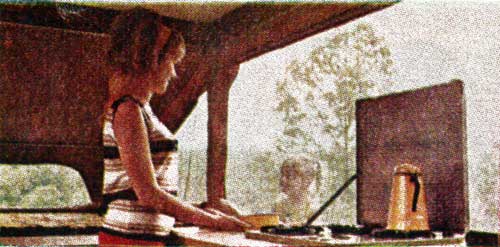 We've designed a lot of features. But more than our features and the quality materials we build them out of, we put value in craftsmanship.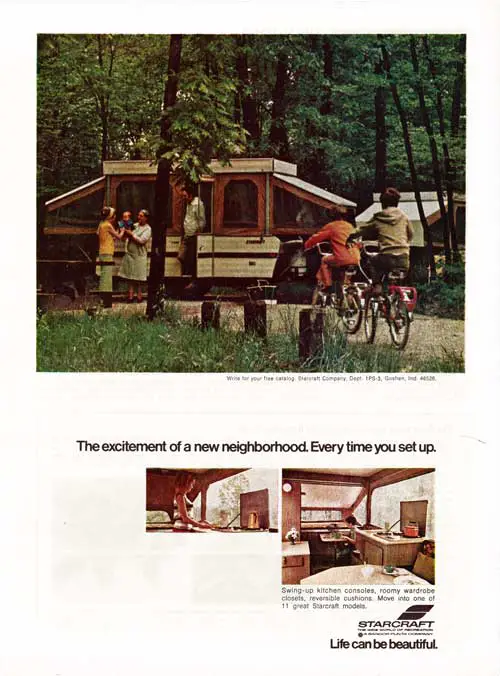 When we measure a camper for a cabinet, we measure it accurately. We treat the floors before we lay the linoleum so it won't buckle or deteriorate.
We make 3/16" holes for 3/16" screws. And then we don't forget to screw in the screw after we made the hole.
In short, we build campers that don't end up rattling and jerking like a mass-produced accumulation of nuts. bolts, and metal.
Maybe that's why more people buy Starcraft campers than any other kind.
Think of it this way. If the moment that deer stepped out of the woods you reached for the camper door and the door handle came off in your hand. Which would you remember? The door handle? Or the deer?
Move into one of 11 great Starcraft Swing-Up Camper models.
Write for your free catalog. Starcraft Company, Dept. 1PS-3, Goshen, Ind. 46526.
STARCRAFT
THE WIDE WORLD OF RECREATION
Goshen, Indiana 46526
A Bangor Punta Company
GG Archives REF: BPSTR-010-1971-C-AD