A Starcraft Star Land Cruiser 24 (1973)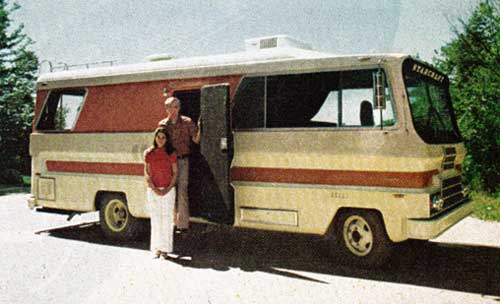 Traveling through America
If you've spent two weeks traveling through America, and this is what you remember best your cruiser was probably built with Starcraftsmanship.
People remember what's important to them.
If it's gadgets on the dashboard, and mirrors behind all the doors don't buy a Star Cruiser.
But if it's seeing, feeling, touching, and living all over this country, don't buy anything else.
Star Cruisers are built to take you where you want to go and make it memorable staying there. It's why they're built with Starcraftsmanship.
Starcraftsmanship is, basically, a standard of excellence.
Because of it, we've designed a motor home with so much luxury we don't think people will think of it as a motor home.
It's a Land Cuiser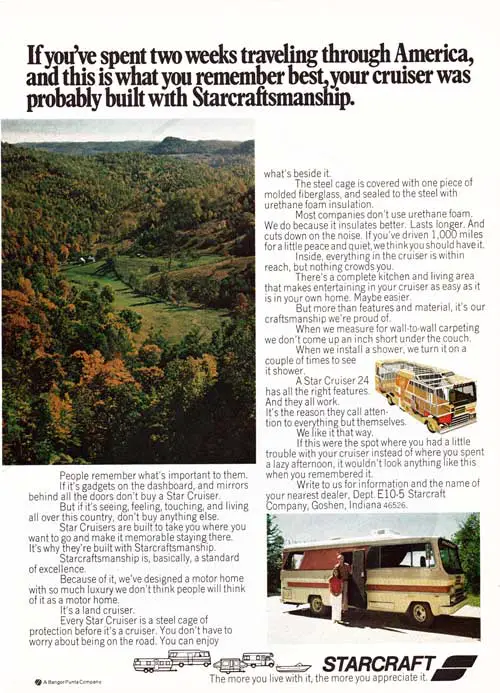 Every Star Cruiser is a steel cage of protection before it's a cruiser. You don't have to worry about being on the road. You can enjoy what's beside it.
The steel cage is covered with one piece of molded fiberglass, and sealed to the steel with urethane foam insulation.
Most companies don't use urethane foam. We do because it insulates better. Lasts longer. And cuts down on the noise. If you've driven 1,000 miles fora little peace and quiet,wethinkyou should have it.
Inside, everything in the cruiser is within reach, but nothing crowds you.
There's a complete kitchen and living area that makes entertaining in your cruiser as easy as it is in your own home. Maybe easier.
But more than features and material, it's our craftsmanship we're proud of.
When we measure for wall-to-wall carpeting we don't come up an inch short under the couch.
When we install a shower, we turn it on a couple of times to see it shower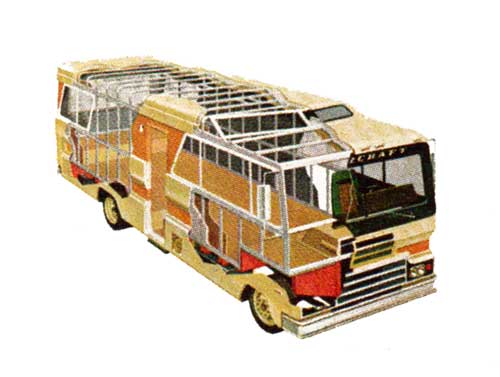 A Star Cruiser 24 has all the right features. And they all work.
It's the reason they call attention to everything but themselves.
We like it that way.
If this were the spot where you had a little trouble with your cruiser instead of where you spent a lazy afternoon, it wouldn't look anything like this when you remembered it.
The more you live with it, the more you appreciate it.
Write to us for information and the name of your nearest dealer, Dept. E10-5 Starcraft Company, Goshen, Indiana 46526.
STARCRAFT
Goshen, Indiana 46526
A Bangor Punta Company
GG Archives REF: BPSTR-013-1973-C-AD