Starcraft Montego Runabout Slips Through The Waves (1977)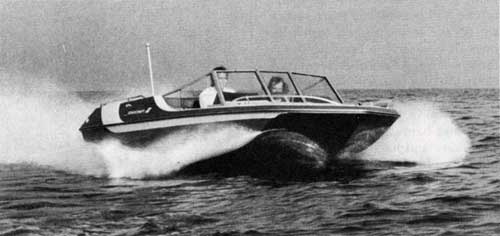 At 50 mph Montego hugs the water. Slips through the waves instead of bouncing off them
STARCRAFT'S MONTEGO:
Experienced boatmen do not judge a high-performance boat on flat-out speed alone.
They want to know how it handles. How it turns. And how it goes through chop.
And that's why knowledgeable boatmen admire Montego's "Tri-V" hull. The unique design combines tri-hull stability with the seaworthy comfort of a deep-V hull.
So Montego doesn't lean way over on its side when it starts to turn. Or slam into the wave tops when the going is rough.Yet Montego, with our largest I/O engines, will do an honest 50 miles-per-hour. On calm and glassy water or in a chop.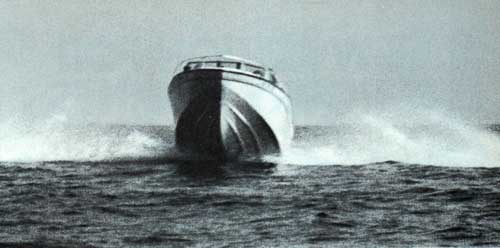 Typical Runabout Bouncing on the Waves
Finished With Style
Montego was designed, from the first, to be a finely finished runabout. The boat is not a remodeled racer. Its snug fitting bucket seats are as handsome as they are comfortable.
The cockpit is deep, high sided and secure with rich padding and upholstery. Equally important, Montego will keep its looks in the years to come.
The hull is built of rugged fiberglass. Tough vinyl covers the bulkheads and the seats. The carpeting is polypropylene, which will not rot or mildew when it's wet.
And the wooden trim is solid teak, which keeps its finish without a touch of varnish.
The i8-foot Montego is a spacious boat with room for eight. Not a racing machine for two. In fact, it is the only boat of its type equipped with seating in the bow.
At same speed ordinary runabout begins to pound.
There are twin bucket seats in the cockpit for the driver and his companion, and a comfortable full-width lounge behind.
Even Montego's built-up rear deck is padded vinyl for reclining in the sun. And the companion bucket seat is swiveled—so someone can keep an eye on water skiers.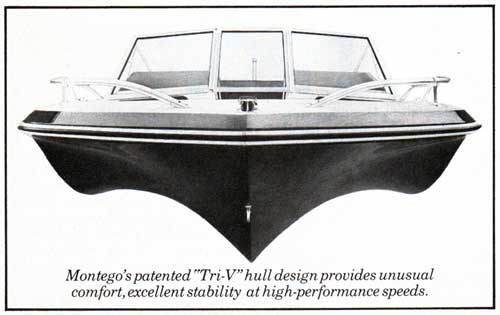 Exceptional Engineering
Montego's high-performance look is not just skin deep. The boat is sensibly engineered.
The raised rear deck, for example, creates a spacious "engine room" that's high enough for a powerful power plant—while keeping the rest of the boat aerodynamically low and fast.
Montego also comes in a smaller version. Sixteen feet long and even faster. It's available with seven different engines. Jets from 245 to 290 hp. I/O's from 120 to 235 hp. OMC and MerCruiser.
We engineered the boat with safety in mind. There's built-in foam flotation. Enough to support as many people as the boat's designed to hold. And keep it upright too. But a high-speed boat must be maneuverable to be safe.
And that's where Montego's highly responsive hull again proves its worth. And why we fit the boat with rack and pinion steering. Even the little things are designed for safety.
Our windshield, for example, is made from tinted safety glass. And there's an instrument panel dimmer for running without glare at night.
The Starcraft Heritage
Starcraft builds 20 other runabouts you can choose from. In fiberglass and aluminum. We also build canoes. And cruisers, fishing boats and bass boats. From 12 to 25 feet. In fact, we've built almost a million boats since 1915.
Montego's patented "Tri-V" hull design provides unusual comfort, excellent stability at high-performance speeds.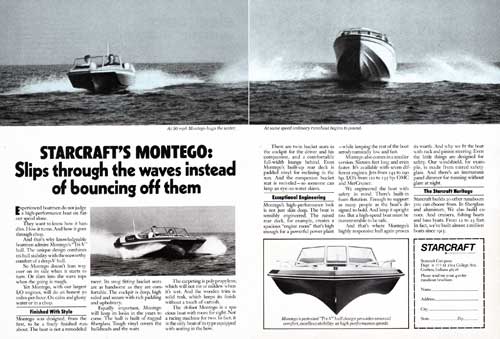 STARCRAFT
Goshen, Indiana 46526
A Bangor Punta Company
GG Archives REF: BPSTR-024-1977-BW-AD-2