Deep V
20 Foot

American Runabout (1974)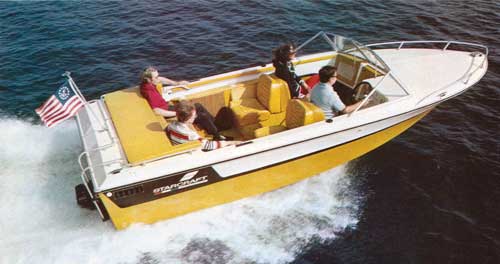 Express yourself. With our American.
Starcraftsmanship means you can own a runabout that says the best about you.
Like our 20' American, for example. Its luxurious interior reflects your good taste.
And its sleek fiberglass deep V hull shows your love of performance and your ability to master it.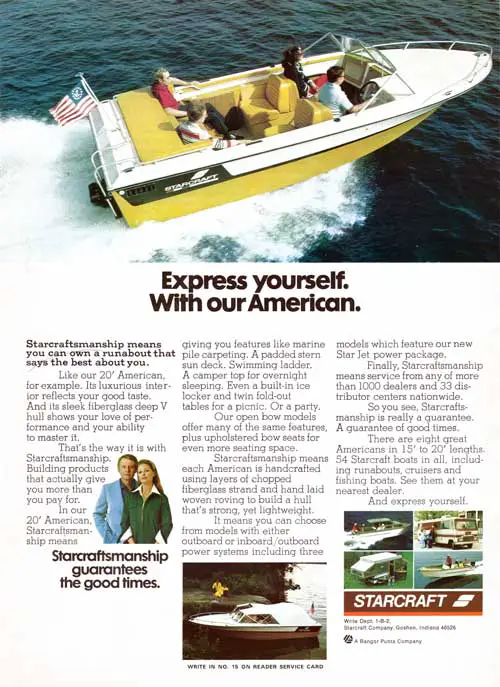 That's the way it is with Starcraftsmanship. Building products that actually give you more than you pay for.
In our 20' American, Starcraftsmanship means giving you features like marine pile carpeting.
A padded stern sun deck. Swimming ladder. A camper top for overnight sleeping. Even a built-in ice locker and twin fold-out tables for a picnic. Or a party.
Starcraftsmanship guarantees the good times.
Our open bow models offer many of the same features, plus upholstered bow seats for even more seating space.
Starcraftsmanship means each American is handcrafted using layers of chopped fiberglass strand and hand laid woven roving to build a hull that's strong, yet lightweight.
It means you can choose from models with either outboard or inboard/outboard power systems including three models which feature our new Star Jet power package.
Finally, Starcraftsmanship means service from any of more than 1000 dealers and 33 distributor centers nationwide.
So you see, Starcraftsmanship is really a guarantee. A guarantee of good times.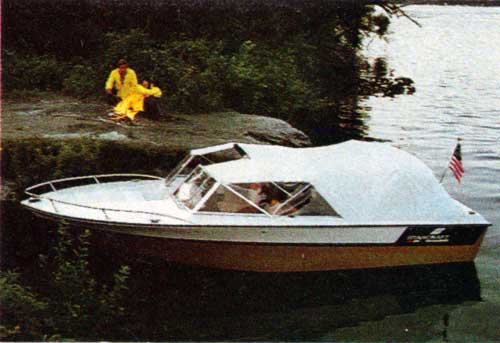 There are eight great Americans in 15' to 20' lengths. 54 Starcraft boats in all, including runabouts, cruisers and fishing boats. See them at your nearest dealer.
And express yourself.
STARCRAFT
Goshen, Indiana 46526
A Bangor Punta Company
GG Archives REF: BPSTR-029-1974-C-AD