The Starcraft Chieftain V Marine Aluminum 21 Foot Cruiser (1969)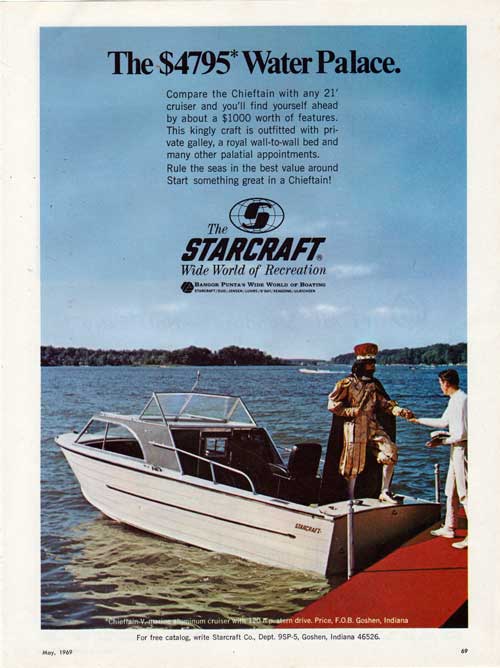 The $4795* Water Palace.
(Left) The Chieftain V, Marine Aluminum 21' Cruiser with 120 h.p. stern drive.
Compare the Chieftain with any 21' cruiser and you'll find yourself ahead by about a $1000 worth of features.
This kingly craft is outfitted with private galley, a royal wall-to-wall bed and many other palatial appointments.
Rule the seas in the best value around Start something great in a Chieftain!
CHIEFTAIN V-Planing at its level best... at full bore! The exclusive concave vee aluminum hull irons out the rough spots while most of the boat's 2,000 pounds bear down on the forward two-thirds of the hull to hold you on an even keel. Ham and eggs anyone? A breakfast bar awaits your pleasure.
The Starcraft Wide World of Recreation
BANGOR PUNTA'S WIDE WORLD OF BOATING
STARCRAFT / DUO / JENSEN / LUHRS / O'DAY / SEAGOING / ULRICHSEN
* Price, F.O.B. Goshen, Indiana
For free catalog, write Starcraft Co., Goshen, Indiana 46526.
STARCRAFT
A Bangor Punta Company
GG Archives REF: BPSTR-032-1969-C-AD