Smith & Wesson Fixed Blade Knives (1982)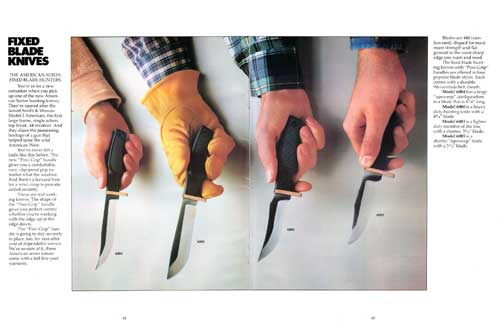 THE AMERICAN SERIES FIXED BLADE HUNTERS
You're in for a new sensation when you pick up one of the new American Series hunting knives.
They're named after the famed Smith & Wesson Model 3 American, the first large frame, single action, top break .44 revolver. And they share the pioneering heritage of a gun that helped tame the wild American West.
Posi-Grip Handle
You've never felt a knife like this before. The new "Posi-Grip" handle gives you a comfortable, sure, slip-proof grip no matter what the weather. And there's a lanyard hole for a wrist strap to provide added security.
These are real working knives. The shape of the "Posi-Grip" handle gives you perfect control whether you're working with the edge up or the edge down.
The "Posi-Grip" handle is going to stay securely in place, too, for year after year of dependable service. We're so sure of it, these American series knives come with a full five-year warranty.
440 Stainless Steel Blades
Blades are 440 stainless steel, shaped for maximum strength and flat ground to the razor sharp edge you want and need.
The fixed blade hunting knives with "Posi-Grip" handles are offered in four popular blade styles. Each comes with a durable, Wessonhide belt sheath.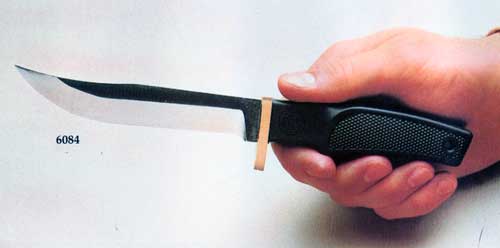 Model 6084 has a large "upsweep" configuration in a blade that is 4 7/8" long.
Model 6080 is a heavy duty hunting knife with a 4 3/4" blade.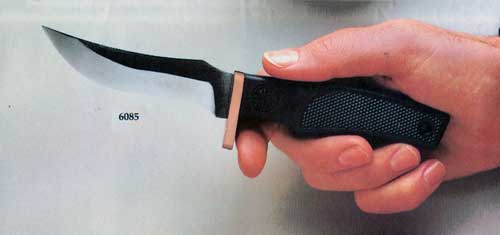 Model 6085 is a shorter "upsweep" knife with a 3 3/4" blade.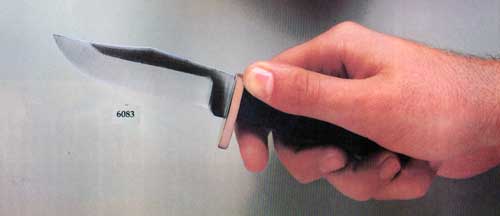 Model 6083 is a lighter duty member of the line with a shorter, 3 3/4" blade.
Smith & Wesson
A Bangor Punta Company
GG Archives REF: BPS&W-030-1982-C-CAT