Smith & Wesson Wessonhide Synthetic Leather Accessories (1982)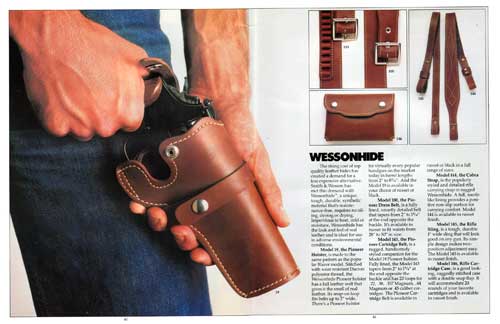 The rising cost of top quality leather hides has created a demand for a less expensive alternative. Smith & Wesson has met this demand with Wessonhide, a unique, tough, durable, synthetic material that's maintenance-free, requires no oiling, dyeing or drying.
Impervious to heat, cold or moisture, Wessonhide has the look and feel of real leather and is ideal for use in adverse environmental conditions.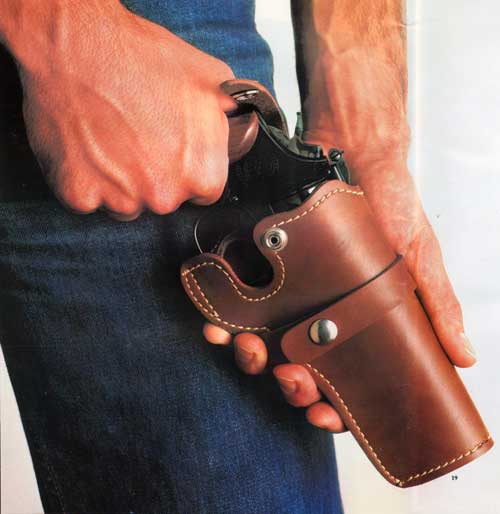 Model 19, the Pioneer Holster [Above], is made to the same pattern as the popular Blazer model. Stitched with wear resistant Dacron polyester thread, the Wessonhide Pioneer holster has a full leather welt that gives it the smell of real leather.
Its snap-on loop fits belts up to 3" wide. There's a Pioneer holster for virtually every popular handgun on the market today in barrel lengths from 2" to 83/8". And the Model 19 is available in your choice of russet or black.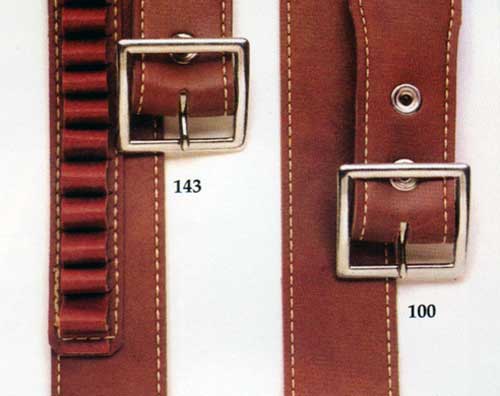 Model 143, the Pioneer Cartridge Belt [Above Left], is a rugged, handsomely styled companion for the Model 19 Pioneer holster.
Fully lined, the Model 143 tapers from 2" to 13/4" at the end opposite the buckle and has 20 loops for .22, .38, .357 Magnum, .44 Magnum or .45 caliber cartridges. The Pioneer Cartridge Belt is available in russet or black in a full range of sizes.
Model 100, the Pioneer Dress Belt [Above Right], is a fully lined, smartly detailed belt that tapers from 2" to 13/4" at the end opposite the buckle. It's available in russet to fit waists from 28" to 50" in size.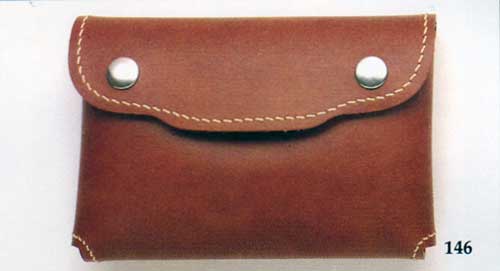 Model 146, Rifle Cartridge Case [Above], is a good looking, ruggedly stitched case with a double snap flap. It will accommodate 20 rounds of your favorite cartridges and is available in russet finish.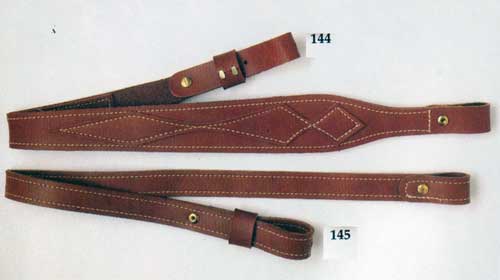 Model 144, the Cobra Strap [Above, Top], is the popularly styled and detailed rifle carrying strap in rugged Wessonhide. A full, suede-like lining provides a positive non-slip surface for carrying comfort. Model 144 is available in russet finish.
Model 145, the Rifle Sling [Above, Bottom], is a tough, durable 1" wide sling that will look good on any gun. Its simple design makes two-position adjustment easy. The Model 145 is available in russet finish.
Smith & Wesson
A Bangor Punta Company
GG Archives REF: BPS&W-030-1982-C-CAT