Smith & Wesson 1982 Catalog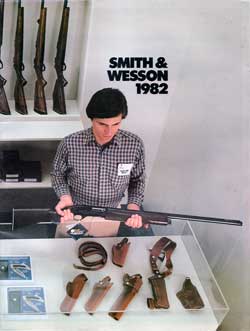 Quality, performance and value may be old fashioned virtues.
But they are three virtues sought after by discriminating, cost-conscious outdoor sportsmen and sportswomen today.
You'll find all three -- quality, performance and value -- in the ever widening range of products Smith & Wesson is offering in 1982.
Quality in materials, skill and craftsmanship. Performance in terms of reliability, consistency and long life. And value in that unique blend of quality and performance at a fair price.
You'll find Smith & Wesson quality, performance and value in long guns. From the superb Model 1500 bolt action rifles to the outstanding proven Model 1000 autoloading and Model 3000 pump shotgun lines.
You'll find quality, performance and value in the world's most sought after handguns. In handcrafted holsters, belts and leather accessories.
And in an innovative line of fixed blade and folding sportsman's knives. All designed and manufactured by Smith & Wesson in Springfield, Massachusetts,
Houlton, Maine, Langton, North Carolina and Pittsburgh, Pennsylvania.
CONTENTS
NEW FOR '82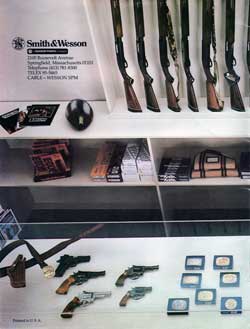 Model 1500 Rifles -- three popular new calibers in standard and deluxe models plus a new heavy barrel varmint rifle in three calibers.
Model 1000 Autoloading Shotguns -- the "Waterfowler," a 3" Magnum with a non-reflective Parkerized finish and camouflaged sling on flush mounted Q.D. swivels, a 20 gauge Super Skeet and a brand new, 23/4" steel receiver trap gun with a Monte Carlo stock, shell catcher and Multi-choke.
Model 3000 Pump Shotguns -- three new 20 gauge 3" Magnum field guns, three new 23/4" steel receiver slug guns with walnut finished hardwood stocks and fore-ends and a new 3" Magnum "Water-fowler" with Parkerized finish and a camouflaged sling.
Multi-Choke Shotguns -- a unique barrel design and three interchangeable choke tubes offered in two configurations ... a 23/4" chambered Model 1000 Autoloader and a 3" Magnum chambered Model 3000 pump.
Handguns -- the exciting new L-Frame Distinguished Combat Magnums in blue, nickel and stainless steel, and the unique 9mm revolver.
And more -- a new stainless swing blade boot knife, two striking new die cast belt buckles, new combat stocks and the introduction of police proven Chemical Mace aerosols to the sporting goods market.
Smith & Wesson
A Bangor Punta Company
GG Archives REF: BPS&W-030-1982-C-CAT