Smith & Wesson Model 3000 Pump Shotguns (1982)
Many American scattergunners were weaned on a pump shotgun. And the pump action is still a favorite.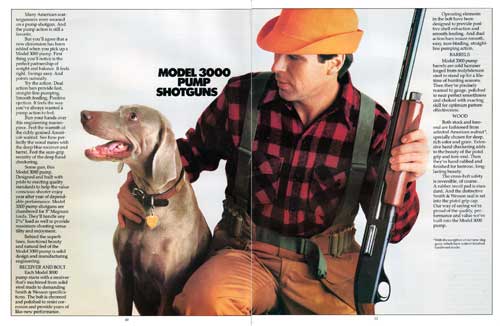 But you'll agree that a new dimension has been added when you pick up a Model 3000 pump. First thing you'll notice is the perfect partnership of weight and balance. It feels right. Swings easy. And points naturally.
Try the action. Dual action bars provide fast, straight-line pumping. Smooth feeding. Positive ejection. It feels the way you've always wanted a pump action to feel.
Run your hands over this engineering masterpiece. Feel the warmth of the richly grained American walnut. See how perfectly the wood mates with the deep blue receiver and barrel. Feel the sure-grip security of the deep hand checkering.
Some gun, this Model 3000 pump. Designed and built with pride to exacting quality standards to help the value conscious shooter enjoy year after year of dependable performance.
Model 3000 pump shotguns are chambered for 3" Magnum loads. They'll handle any 23/4" load as well to provide maximum shooting versatility and enjoyment.
Behind the superb lines, functional beauty and natural feel of the Model 3000 pump is solid design and manufacturing engineering.
RECEIVER AND BOLT
Each Model 3000 pump starts with a receiver that's machined from solid steel made to demanding Smith & Wesson specifications. The bolt is chromed and polished to resist corrosion and provide years of like-new performance.
MODEL 3000 PUMP SHOTGUNS
Operating elements in the bolt have been designed to provide positive shell extraction and smooth feeding. And dual action bars insure smooth, easy, non-binding, straight-line pumping action.
BARRELS
Model 3000 pump barrels are cold hammer forged from molybdenum steel to stand up for a lifetime of hunting seasons. Then they're precisely reamed to gauge, polished to near perfect smoothness and choked with exacting skill for optimum pattern effectiveness.
WOOD
Both stock and fore-end are fashioned from selected American walnut*, specially chosen for deep, rich color and grain.
Extensive hand checkering adds to the beauty of the pistol grip and fore-end. Then they're hand rubbed and finished for lustrous, long-lasting beauty.
The cross-bolt safety is reversible, of course.
A rubber recoil pad is standard. And the distinctive Smith & Wesson seal is set into the pistol grip cap. Our way of saying we're proud of the quality, performance and value we've built into the Model 3000 pump.
*With the exception of our new slug guns, which have walnut-finished hardwood stocks.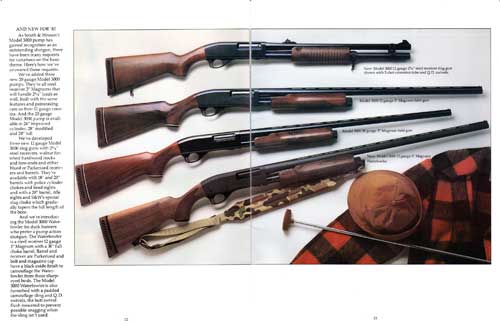 Top to Bottom: New Model 3000 12 gauge 23/4" steel receiver slug gun shown with 3 shot extension tube and Q.D. swivels; Model 3000 12 gauge 3" Magnum field gun; Model 3000 20 gauge 3" Magnum field gun; New Model 3000 12 gauge 3" Magnum Waterfowler.
AND NEW FOR '82
As Smith & Wesson's Model 3000 pump has gained recognition as an outstanding shotgun, there have been many requests for variations on the basic theme. Here's how we've answered those requests.
We've added three new 20 gauge Model 3000 pumps. They're all steel receiver 3" Magnums that will handle 23/4" loads as well, built with the same features and painstaking care as their 12 gauge cousins. And the 20 gauge Model 3000 pump is available in 26" improved cylinder, 28" modified and 28" full.
We've developed three new 12 gauge Model 3000 slug guns with 23/4" steel receivers, walnut finished hardwood stocks and fore-ends and either blued or Parkerized receivers and barrels.
They're available with 18" and 20" barrels with police cylinder chokes and bead sights and with a 20" barrel, rifle sights and S&W's special slug choke which gradually tapers the full length of the bore.
And we're introducing the Model 3000 Water-fowler for duck hunters who prefer a pump action shotgun. The Waterfowler is a steel receiver 12 gauge 3" Magnum with a 30" full choke barrel.
Barrel and receiver are Parkerized and bolt and magazine cap have a black oxide finish to camouflage the Water-fowler from those sharp-eyed birds.
The Model 3000 Waterfowler is also furnished with a padded camouflage sling and Q.D. swivels, the butt swivel flush mounted to prevent possible snagging when the sling isn't used.
Smith & Wesson
A Bangor Punta Company
GG Archives REF: BPS&W-030-1982-C-CAT