Smith & Wesson Model 1500 Rifles (1982)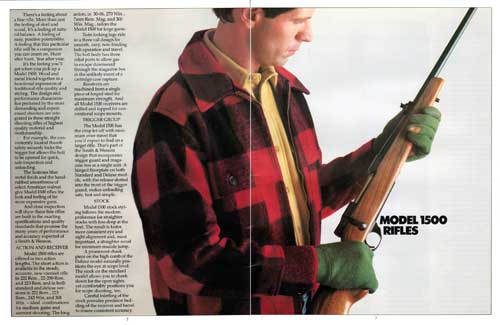 There's a feeling about a fine rifle. More than just the feeling of steel and wood. It's a feeling of natural balance. A feeling of easy, positive pointability.
A feeling that this particular rifle will be a companion you can count on. Hunt after hunt. Year after year.
It's the feeling you'll get when you pick up a Model 1500. Wood and metal blend together in a functional expression of traditional rifle quality and styling.
The design and performance characteristics preferred by the most demanding and experienced shooters are integrated in these straight shooting rifles of highest quality material and workmanship.
For example, the conveniently located thumb safety securely locks the trigger but allows the bolt to be opened for quick, safe inspection and unloading.
The lustrous blue metal finish and the hand-rubbed smoothness of select American walnut give Model 1500 rifles the look and feeling of far more expensive guns.
And close inspection will show these fine rifles are built to the exacting specifications and quality standards that promise the many years of performance and accuracy expected of a Smith & Wesson.
ACTION AND RECEIVER
Model 1500 rifles are offered in two action lengths.
The short action is available in the steady, accurate, new varmint rifle in 222 Rem., 22-250 Rem. and 223 Rem. and in both standard and deluxe versions in 222 Rem., 223 Rem., 243 Win. and 308 Win. — ideal combinations for medium game and varmint shooting.
The long action, in 30-06, 270 Win., 7mm Rem. Mag. and 300 Win. Mag., tailors the Model 1500 for large game.
Twin locking lugs ride in a three rail design for smooth, easy, non-binding bolt operation and travel. The bolt body has three relief ports to allow gas to escape downward through the magazine box in the unlikely event of a cartridge case rupture.
Receivers are machined from a single piece of forged steel for maximum strength. And all Model 1500 receivers are drilled and tapped for conventional scope mounts.
TRIGGER GROUP
The Model 1500 has the crisp let-off with minimum over-travel that you'd expect to find on a target rifle. That's part of the Smith & Wesson design that incorporates trigger guard and magazine box in a single unit.
A hinged floorplate on both Standard and Deluxe models, with the release slotted into the front of the trigger guard, makes unloading safe, fast and simple.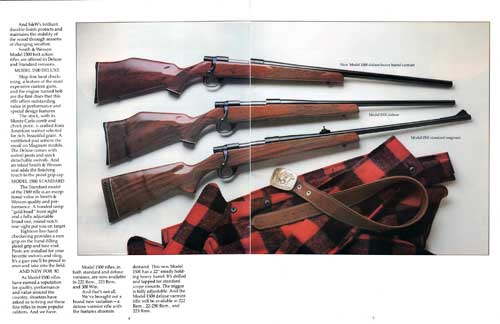 From Top to Bottom: New Model 1500 Deluxe Heavy Barrel Varmint; Model 1500 Deluxe; and the Model 1500 Standard Magnum.
STOCK
Model 1500 stock styling follows the modern preference for straighter stocks with less drop at the heel. The result is faster, more consistent eye and sight alignment and, most important, a straighter recoil for minimum muzzle jump.
A prominent cheek piece on the high comb of the Deluxe model naturally positions the eye at scope level. The stock on the standard model allows you to cheek down for the open sights yet comfortably positions you for scope shooting, too.
Careful inletting of the stock provides precision bedding of the receiver and barrel to insure consistent accuracy.
And S&W's brilliant, durable finish protects and maintains the stability of the wood through seasons of changing weather.
Smith & Wesson Model 1500 bolt action rifles are offered in Deluxe and Standard versions.
MODEL 1500 DELUXE
Skip-line hand checkering, a feature of the most expensive custom guns, and the engine turned bolt are the first clues that this rifle offers outstanding value in performance and special design features.
The stock, with its Monte Carlo comb and cheek piece, is crafted from American walnut selected for rich, beautiful grain. A ventilated pad softens the recoil on Magnum models.
The Deluxe comes with swivel posts and quick detachable swivels. And an inlaid Smith & Wesson seal adds the finishing touch to the pistol grip cap.
MODEL 1500 STANDARD
The Standard model of the 1500 rifle is an exceptional value in Smith & Wesson quality and performance. A hooded ramp "gold bead" front sight and a fully adjustable broad vee, round notch rear sight put you on target.
Eighteen line hand checkering provides a sure grip on the hand-filling pistol grip and fore-end. Posts are installed for your favorite swivels and sling. It's a gun you'll be proud to own and take into the field.
NEW FOR 1982
As Model 1500 rifles have earned a reputation for quality, performance and value around the country, shooters have asked us to bring out these fine rifles in more popular calibers. And we have.
Model 1500 rifles, in both standard and deluxe versions, are now available in 222 Rem., 223 Rem. and 308 Win.
And that's not all.
We've brought out a brand new variation — a deluxe varmint rifle with the features shooters
demand. This new Model 1500 has a 22" steady holding heavy barrel. It's drilled and tapped for standard scope mounts.
The trigger is fully adjustable. And the Model 1500 deluxe varmint rifle will be available in 222 Rem., 22-250 Rem., and 223 Rem.
Smith & Wesson
A Bangor Punta Company
GG Archives REF: BPS&W-030-1982-C-CAT