Outlaw 26 Sailboat from O'Day
When you're racing -- or just in a hurry --you'll find Outlaw an extremely eager boat. Her hull was designed with far less wetted surface, following the trend to narrower keels to improve speed and maneuverability. She'll respond to the lightest breezes, and she handles admirably even under heavy weather conditions.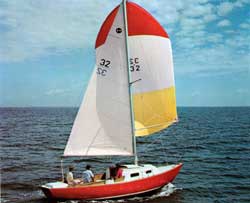 If getting away from it all has meant leaving all of the comforts behind, you owe yourself a look at the Outlaw. This largest O'Day boat is spaciousness personified ...