Tempest Sailboat from O'Day
The O'Day Tempest combines a fast racing boat that's also a family boat. A boat designed for day sailing, racing, and long and short cruising by Philip L. Rhodes. A large cockpit and a simple boom tent make room for four in two separate cabins.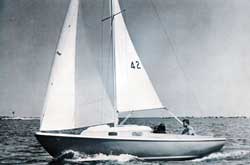 Designed by Philip L. Rhodes to O'Day's specifications, Tempest combines a hull of medium displacement that's easily driven with a full masthead rig for the most efficient performance.