S&W Model 1000 12 Gauge: What To Look For In A Great Shotgun (1975)
The 12 gauge Model 1000 autoloading shotgun personifies the kind of quality Smith & Wesson has been known for since 1852. The kind of quality you'll find in every shotgun, air rifle, pellet pistol and handgun shipped from our factory in Springfield.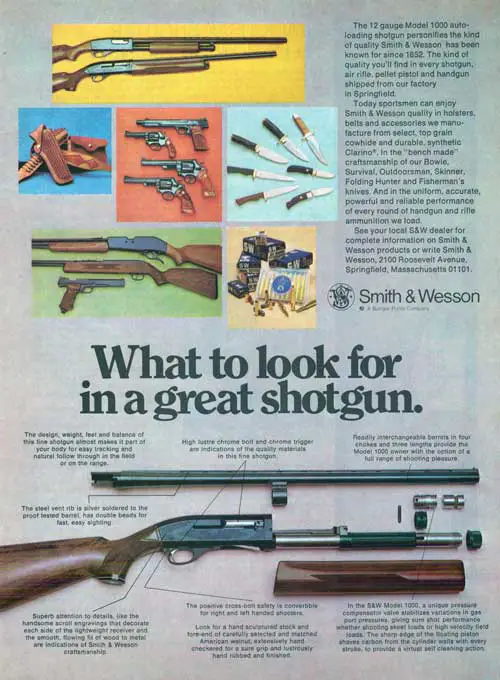 Today sportsmen can enjoy Smith & Wesson quality in holsters, belts and accessories we manufacture from select, top grain cowhide and durable, synthetic Clarino®.
In the "bench made" craftsmanship of our Bowie, Survival. Outdoorsman, Skinner, Folding Hunter and Fisherman's knives.
And in the uniform, accurate, powerful and reliable performance of every round of handgun and rifle ammunition we load.
See your local S&W dealer for complete information on Smith & Wesson products or write Smith & Wesson, 2100 Roosevelt Avenue, Springfield, Massachusetts 01101.
What to look for in a great shotgun
The design, weight, feel and balance of this fine shotgun almost makes it part of your body for easy tracking and natural follow through in the field or on the range.
High lustre chrome bolt and chrome trigger are indications of the quality materials in this fine shotgun.
Readily interchangeable barrels in four chokes and three lengths provide the Model 1000 owner with the option of a full range of shooting pleasure.
The steel vent rib is silver soldered to the proof tested barrel, has double beads for fast, easy sighting.
Superb attention to details, like the handsome scroll engravings that decorate each side of the lightweight receiver and the smooth, flowing fit of wood to metal are indications of Smith & Wesson craftsmanship.
The positive cross-bolt safety is convertible for right and left handed shooters.
Look for a hand sculptured stock and fore-end of carefully selected and matched
American walnut, extensively hand checkered for a sure grip and lustrously hand rubbed and finished.
In the S&W Model 1000, a unique pressure compensator valve stabilizes variations in gas port pressures, giving sure shot performance whether shooting skeet loads or high velocity field loads. The sharp edge of the floating piston shaves carbon from the cylinder walls with every stroke, to provide a virtual self cleaning action.
Smith & Wesson
Springfield, Massachusetts 01101
A Bangor Punta Company
GG Archives REF: BPS&W-020-1975-C-AD