Holsters for Your New N Frame Revolver by Smith & Wesson (1980 ca)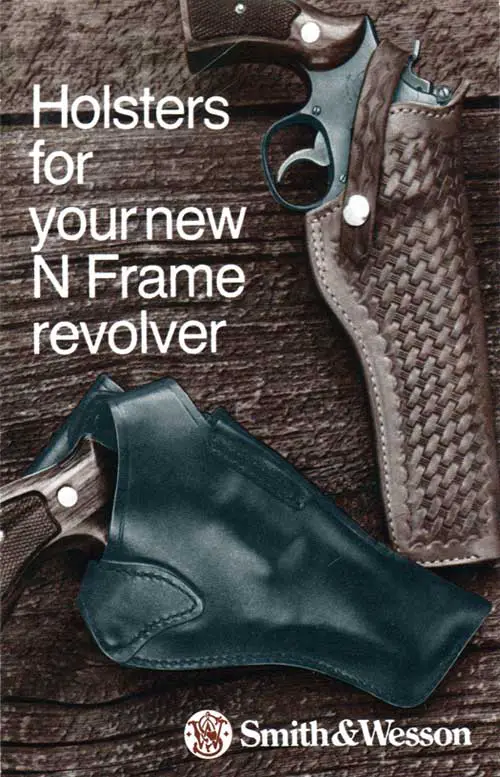 Belts and Accessories
Smith & Wesson offers a selection of beautifully crafted belts and accessories to compliment your handgun and holster.
They're fashioned from the same top quality materials as our holsters and hand finished to exacting standards to assure the utmost in satisfaction.
Sam Browne belts
cartridge belts
dress belts
cartridge carriers
drop boxes
handcuff cases
and many others
Congratulations! You're now the owner of a fine new Smith & Wesson handgun. There is a top quality Smith & Wesson holster designed to protect your new gun and meet your own particular taste and requirements.
Choose from top grain cowhide, superb new Wessonhide™ or synthetic Clarino®. Whatever your choice, you'll have a carefully molded and sewn, hand polished and fitted holster tailored to your gun.
The accompanying chart shows the Smith & Wesson holsters that are designed for your gun. Ask your dealer to show you the Smith & Wesson leather catalog and models that interest you.
Holsters for your new N Frame revolver
S&W Gun Model
27, 28, 29, 57
25, 27, 28, 29, 57, 629
27, 29, 57
Barrel Length
4"
6"
8 3/8"
State Patrolman
B16
24
26
Uniform Non-Swivel
B32
24
26
State Patrolman
B36
24
26
Note: "B" preceding holster model number indicates black only.
Most other models available in black and russet, plain and basket weave.
*Wessonhide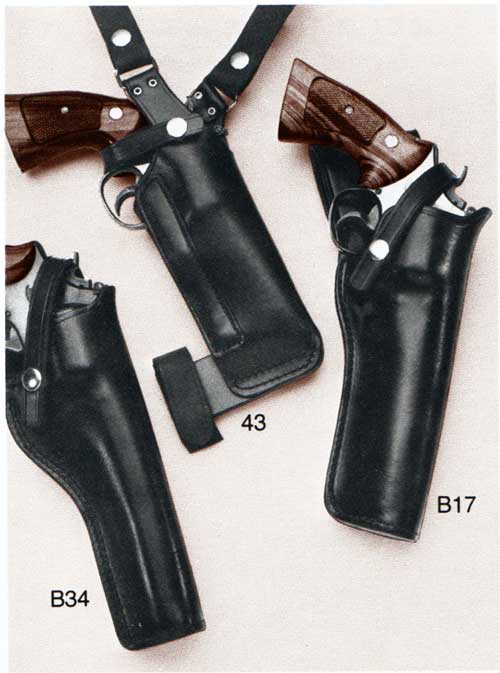 Smith & Wesson
Springfield, Massachusetts 01101
A Bangor Punta Company
GG Archives REF: BPS&W-052-1980-C-FLY