Look at Smith & Wesson - Models 1000 & 916 (1974)
Take a long, hard look. At two great shotguns with a heritage that goes back to the superb Wesson shotgun of 1867.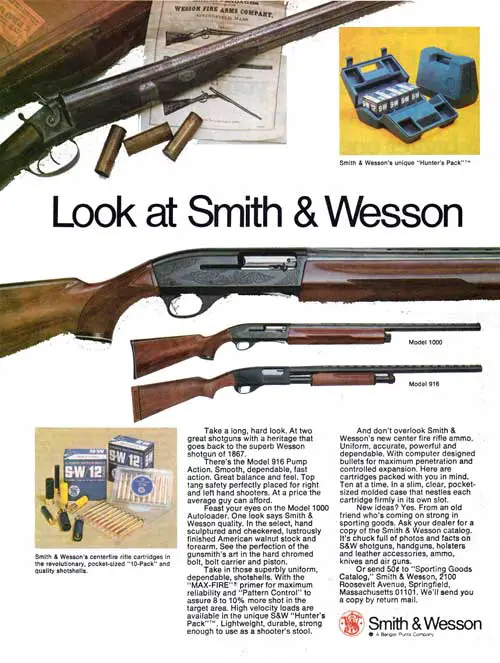 There's the Model 916 Pump Action. Smooth, dependable, fast action. Great balance and feel.
Top tang safety perfectly placed for right and left hand shooters. At a price the average guy can afford.
Feast your eyes on the Model 1000 Autoloader. One look says Smith & Wesson quality.
In the select, hand sculptured and checkered, lustrously finished American walnut stock and forearm. See the perfection of the gunsmith's art in the hard chromed bolt, bolt carrier and piston.
Take in those superbly uniform, dependable, shotshells. With the "MAX-FIRE"®"MAX-FIRE"e primer for maximum reliability and "Pattern Control" to assure 8 to 10% more shot in the target area.
High velocity loads are available in the unique S&W "Hunter's Pack"T". Lightweight, durable, strong enough to use as a shooter's stool.
And don't overlook Smith & Wesson's new center fire rifle ammo. Uniform, accurate, powerful and dependable. With computer designed bullets for maximum penetration and controlled expansion.
Here are cartridges packed with you in mind. Ten at a time. In a slim, clear, pocket-sized molded case that nestles each cartridge firmly in its own slot.
New ideas? Yes. From an old friend who's coming on strong in sporting goods. Ask your dealer for a copy of the Smith & Wesson catalog. It's chuck full of photos and facts on S&W shotguns, handguns, holsters and leather accessories, ammo, knives and air guns.
GGA REF: BPS&W-015-1974-C-AD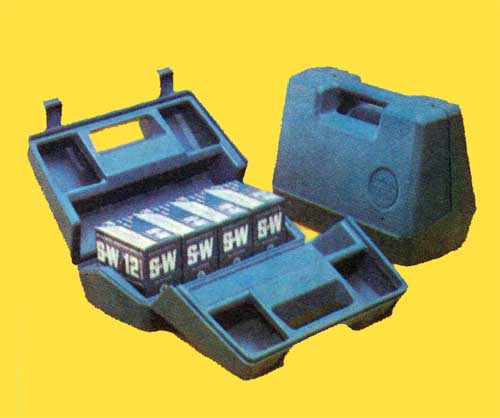 Smith & Wesson's unique "Hunter's Pack"™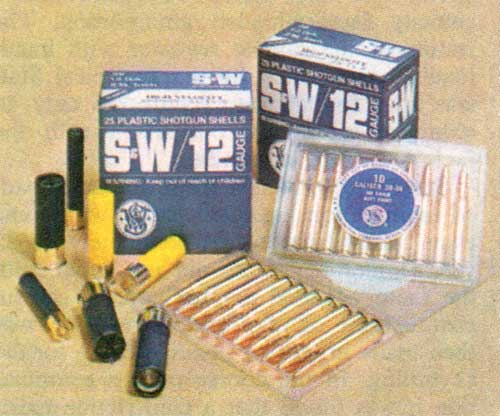 Smith & Wesson's centerfire rifle cartridges in the revolutionary, pocket-sized "10-Pack" and quality shotshells.
Smith & Wesson
Springfield, Massachusetts 01101
A Bangor Punta Company
GG Archives REF: BPS-W-015-1974-C-AD