Smith & Wesson Model 1500 Bolt-Action Rifles (1982)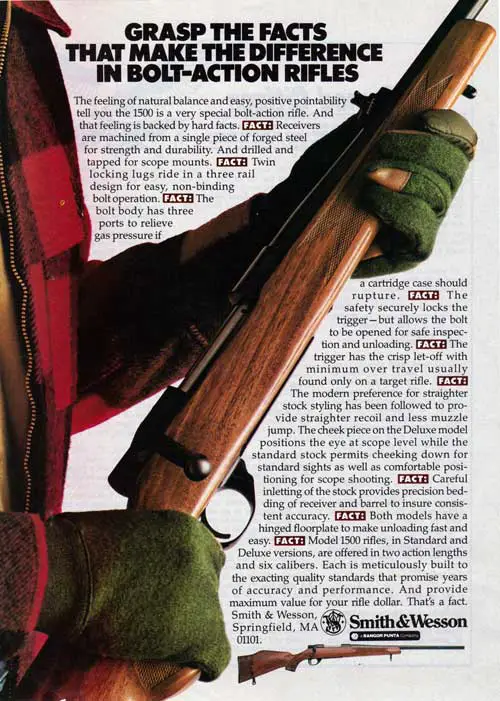 Grasp the Facts That Make the Difference in Bolt-Action Rifles
The feeling of natural balance and easy, positive pointability tell you the 1500 is a very special bolt-action rifle. And that feeling is backed by hard facts.
FACT: Receivers are machined from a single piece of forged steel for strength and durability. And drilled and tapped for scope mounts.
FACT: Twin locking lugs ride in a three rail design for easy, non-binding bolt operation.
FACT: The bolt body has three ports to relieve gas pressure if a cartridge case should rupture.
FACT: The safety securely locks the trigger -- but allows the bolt to be opened for safe inspection and unloading.
FACT: The trigger has the crisp let-off with minimum over travel usually found only on a target rifle. The modern preference for straighter stock styling has been followed to provide straighter recoil and less muzzle jump. The cheek piece on the Deluxe model positions the eye at scope level while the standard stock permits cheeking down for standard sights as well as comfortable positioning for scope shooting.
FACT: Careful inletting of the stock provides precision bedding of receiver and barrel to insure consistent accuracy.
FACT: Both models have a hinged floorplate to make unloading fast and easy.
FACT: Model 1500 rifles, in Standard and Deluxe versions, are offered in two action lengths and six calibers. Each is meticulously built to the exacting quality standards that promise years of accuracy and performance. And provide maximum value for your rifle dollar.
That's a fact.
Smith & Wesson
Springfield, Massachusetts 01101
A Bangor Punta Company
GG Archives REF: BPS&W-029-1982-C-AD