Smith & Wesson 38 Caliber Model 52 Master Pistol (1969)
This little ring helps the S&W.38 Master outshoot them all.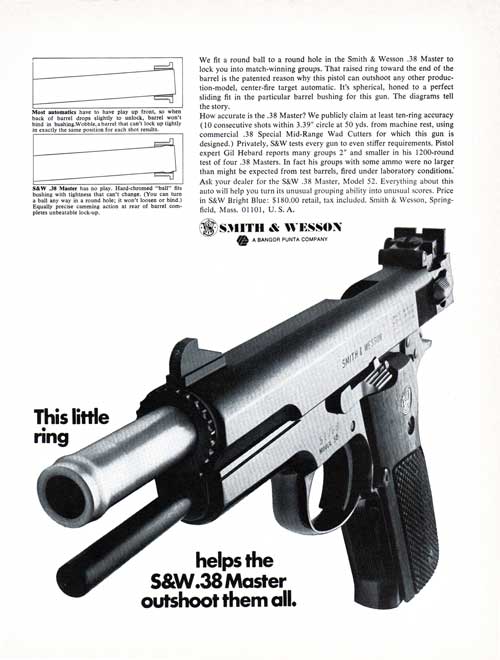 Most automatics have to have play up front, so when back of barrel drops slightly to unlock, barrel won't bind in bushing.
Wobble, a barrel that can't lock up tightly in exactly the same position for each shot results.
S&W .38 Master has no play. Hard-chromed "ball" fits bushing with tightness that can't change.
(You can turn a ball any way in a round hole; it won't loosen or bind.)
Equally precise camming action at rear of barrel completes unbeatable lock-up.
We fit a round ball to a round hole in the Smith & Wesson .38 Master to lock you into match-winning groups. That raised ring toward the end of the barrel is the patented reason why this pistol can outshoot any other production-model, center-fire target automatic.
It's spherical, honed to a perfect sliding fit in the particular barrel bushing for this gun. The diagrams tell the story.
How accurate is the .38 Master?
We publicly claim at least ten-ring accuracy (10 consecutive shots within 3.39" circle at 50 yards from machine rest, using commercial .38 Special Mid-Range Wad Cutters for which this gun is designed.) Privately, S&W tests every gun to even stiffer requirements.
Pistol expert Gil Hebard reports many groups 2" and smaller in his 1200-round test of four .38 Masters. In fact his groups with some ammo were no larger than might be expected from test barrels, fired under laboratory conditions.
Ask your dealer for the S&W .38 Master, Model 52. Everything about this auto will help you turn its unusual grouping ability into unusual scores.
Price in S&W Bright Blue: $180.00 retail, tax included. Smith & Wesson, Springfield, Mass. 01101, U. S. A.
Smith & Wesson
Springfield, Massachusetts 01101
A Bangor Punta Company
GG Archives REF: BPS&W-007-1969-BW-AD