Christmas presents for yourself, for your son from Smith & Wesson Model 41 (1973)
For your son
He's outgrown the old BB gun. Make his eyes light up with a real rifle this Christmas. A Smith & Wesson .22 caliber pellet rifle. With the heft and feel and look of your gun. And the accuracy. You can make dime-sized groups at 33 feet. The S&W pellet rifle is easy to use, too. Just pump, load and fire. Three or four pumps for indoor shooting. Outdoors ten pumps gives a velocity of 600 feet per second.
The 22 inch long barrel is rifled steel, with S&W's distinctive long lasting gun blue finish.
Easy to pump grooved forearm is walnut finished choice hardwood.
Adjustable rear notch sight and fixed front post help improve your accuracy.
Lever action is smooth. fast for easy cocking and loading.
Receiver grooved for telescopic sight.
Automatic safety engages every time you cock it.
Walnut finished, Monte Carlo style stock is beautifully grained choice hardwood.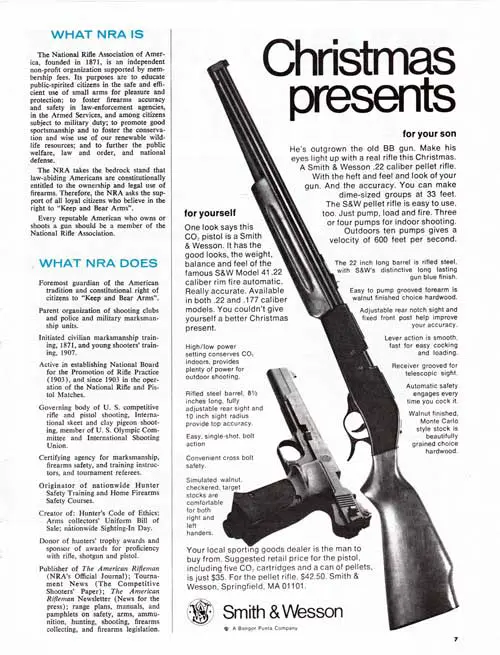 For yourself
One look says this CO2 pistol is a Smith & Wesson. It has the good looks, the weight, balance and feel of the famous S&W Model 41 .22 caliber rim fire automatic. Really accurate. Available in both .22 and .177 caliber models. You couldn't give yourself a better Christmas present.
High/low power setting conserves CO2, indoors, provides plenty of power for outdoor shooting.
Rifled steel barrel, 8 1/2 inches long, fully adjustable rear sight and 10 inch sight radius provide top accuracy.
Easy. single-shot, bolt action
Convenient cross bolt safety.
Simulated walnut. checkered, target stocks are comfortable for both right and left handers.
Your local sporting goods dealer is the man to buy from. Suggested retail price for the pistol, including five CO2, cartridges and a can of pellets, is just $35. For the pellet rifle. $42.50.
Smith & Wesson
Springfield, Massachusetts 01101
A Bangor Punta Company
GG Archives REF: BPS&W-011-1973-BW-AD
WHAT NRA IS
The National Rifle Association of America. founded in 1871, is an independent non-profit organization supported by membership fees.
Its purposes are to educate public-spirited citizens in the safe and efficient use of small arms for pleasure and protection; to foster firearms accuracy and safety in law-enforcement agencies, in the Armed Services, and among citizens subject to military duty; to promote good sportsmanship and to foster the conservation and wise use of our renewable wildlife resources; and to further the public welfare, law and order, and national defense.
The NRA takes the bedrock stand that law-abiding Americans are constitutionally entitled to the ownership and legal use of firearms. Therefore, the NRA asks the support of all loyal citizens who believe in the right to "Keep and Bear Arms".
Every reputable American who owns or shoots a gun should be a member of the National Rifle Association.
WHAT NRA DOES
Foremost guardian of the American tradition and constitutional right of citizens to "Keep and Bear Arms".
Parent organization of shooting clubs and police and military marksmanship units.
Initiated civilian marksmanship training, 1871, and young shooters' training, 1907.
Active in establishing National Board for the Promotion of Rifle Practice (1903), and since 1903 in the operation of the National Rifle and Pistol Matches.
Governing body of U. S. competitive rifle and pistol shooting, International skeet and clay pigeon shooting, member of U. S. Olympic Committee and International Shooting Union.
Certifying agency for marksmanship, firearms safety, and training instructors, and tournament referees.
Originator of nationwide Hunter Safety Training and Home Firearms Safety Courses.
Creator of: Hunter's Code of Ethics; Arms collectors' Uniform Bill of Sale; nationwide Sighting-In Day. Donor of hunters' trophy awards and sponsor of awards for proficiency with rifle, shotgun and pistol.
Publisher of The American Rifleman (NRA's Official Journal); Tournament News (The Competitive Shooters' Paper); The American Rifleman Newsletter (News for the press); range plans, manuals, and pamphlets on safety, arms, ammunition, hunting, shooting, firearms collecting, and firearms legislation.
For current information on the NRA please visit their website at http://programs.nra.org/.