Smith & Wesson Model 41 Semi-Automatic Handgun (1968)
If you don't like the sight radius on this slick-shooting S&W... use a little pull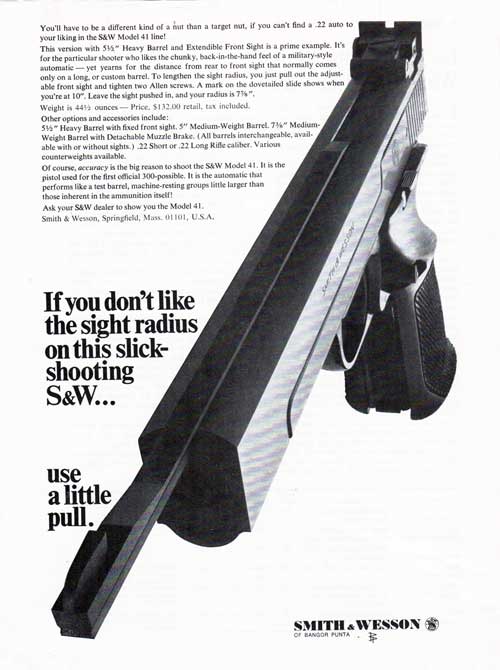 You'll have to be a different kind of a nut than a target nut, if you can't find a .22 auto to your liking in the S&W Model 41 line!
This version with 5 ½" Heavy Barrel and Extendible Front Sight is a prime example. It's for the particular shooter who likes the chunky, back-in-the-hand feel of a military-style automatic -- yet yearns for the distance from rear to front sight that normally comes only on a long, or custom barrel.
To lengthen the sight radius, you just pull out the adjustable front sight and tighten two Allen screws. A mark on the dovetailed slide shows when you're at 10". Leave the sight pushed in, and your radius is 7 7/8".
Weight is 44 ½ ounces -- Price. $132.00 retail, tax included.
Other options and accessories include:
5 ½" Heavy Barrel with fixed front sight.
5" Medium-Weight Barrel.
7 3/8" Medium-Weight Barrel with Detachable Muzzle Brake. (All barrels interchangeable, available with or without sights.)
.22 Short or .22 Long Rifle caliber.
Various counterweights available.
Of course, accuracy is the big reason to shoot the S&W Model 41. It is the pistol used for the first official 300-possible. It is the automatic that performs like a test barrel, machine-resting groups little larger than those inherent in the ammunition itself!
Ask your S&W dealer to show you the Model 41.
Smith & Wesson
Springfield, Massachusetts 01101
A Bangor Punta Company
GG Archives REF: BPS&W-005-1968-BW-AD