Smith & Wesson Model 1000 Autoloading Shotgun (1976)
One good Smith & Wesson deserves another.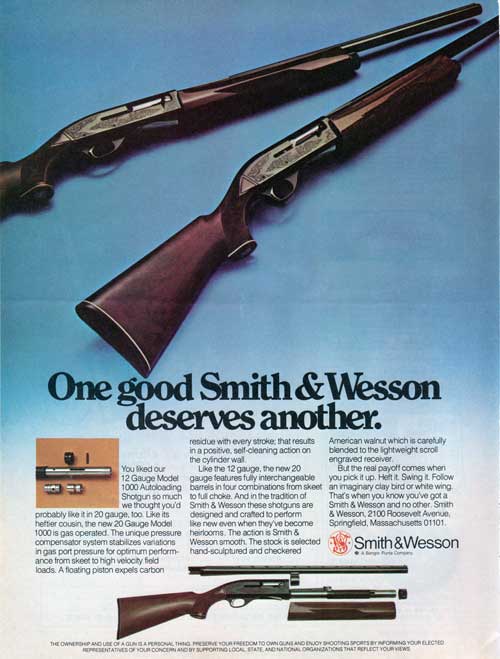 You liked our 12 Gauge Model 1000 Autoloading Shotgun so much we thought you'd probably like it in 20 gauge, too.
Like its heftier cousin, the new 20 Gauge Model 1000 is gas operated.
The unique pressure compensator system stabilizes variations in gas port pressure for optimum performance from skeet to high velocity field loads.
A floating piston expels carbon residue with every stroke; that results in a positive, self-cleaning action on the cylinder wall.
Like the 12 gauge, the new 20 gauge features fully interchangeable barrels in four combinations from skeet to full choke. And in the tradition of Smith & Wesson these shotguns are designed and crafted to perform like new even when they've become heirlooms.
The action is Smith & Wesson smooth. The stock is selected hand-sculptured and checkered American walnut which is carefully blended to the lightweight scroll engraved receiver.
But the real payoff comes when you pick it up. Heft it. Swing it. Follow an imaginary clay bird or white wing. That's when you know you've got a Smith & Wesson and no other.
The ownership and use of a gun is a personal thing. Preserve your freedom to own guns and enjoy shooting sports by informing your elected representatives of your concern and by supporting local, state, and national organizations that reflect your views.
Smith & Wesson
Springfield, Massachusetts 01101
A Bangor Punta Company
GG Archives REF: BPS&W-021-1976-C-AD