S&W's Prize-Winning .22 Rim Fire Automatic Target Pistol, Model 41 (1971)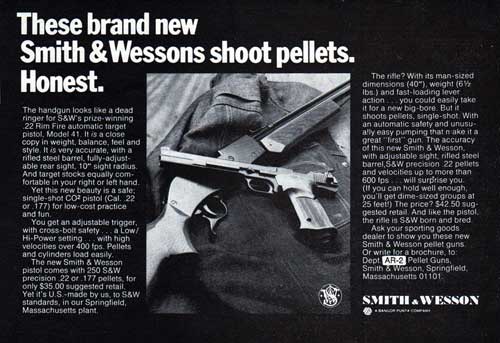 These brand new Smith & Wessons shoot pellets. Honest.
The handgun looks like a dead ringer for S&W's prize-winning .22 Rim Fire automatic target pistol, Model 41. It is a close copy in weight, balance, feel and style.
It is very accurate, with a rifled steel barrel, fully-adjustable rear sight, 10" sight radius. And target stocks equally comfortable in your right or left hand.
Yet this new beauty is a safe; single-shot CO2 pistol (Cal..22 or .177) for low-cost practice and fun.
You get an adjustable trigger, with cross-bolt safety … a Low/ Hi-Power setting … with high velocities over 400 fps. Pellets and cylinders load easily.
The new Smith & Wesson pistol comes with 250 S&W precision .22 or .177 pellets, for only $35.00 suggested retail.
Yet it's U.S.-made by us, to S&W standards, in our Springfield, Massachusetts plant.
The rifle? With its man-sized dimensions (40"), weight (61/2 lbs.) and fast-loading lever action … you could easily take it for a new big-bore. But it shoots pellets, single-shot. With an automatic safety and unusually easy pumping that wake it a great "first" gun.
The accuracy of this new Smith & Wesson, with adjustable sight, rifled steel barrel,S&W precision .22 pellets and velocities up to more than 600 fps … will surprise you.
(If you can hold well enough, you'll get dime-sized groups at 25 feet!) The price? $42.50 suggested retail. And like the pistol,. the rifle is S&W born and bred.
Ask your sporting goods dealer to show you these new Smith & Wesson pellet guns. Or write for a brochure, to: Dept. AR2 Pellet. Guns, Smith & Wesson, Springfield, Massachusetts 01101.
Smith & Wesson
Springfield, Massachusetts 01101
A Bangor Punta Company
GG Archives REF: BPS&W-010-1971-BW-AD-1/2