DUO Fisherman Outboard Fiberglass Bass Boat (1971)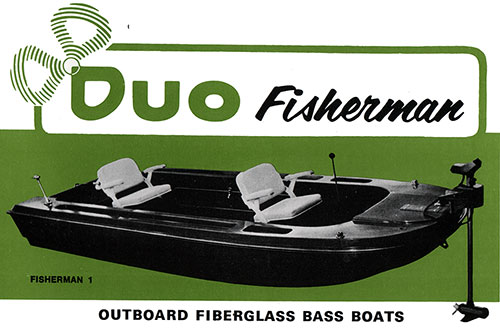 Fishing convenience is built into every Duo Fisherman model — from the upholstered arm chairs with swivel seats to the rod rack and locked rod storage compartment.
Deep, wide deck storage trays and molded splash rails in the rear protect your valuable gear. Large locked foredeck storage compartment and under the seat storage areas are Ideal for extra bait and equipment or the big catch.
B.I.A. approved flotation. Fisherman 1 model is pictured. Also available in 15' and 16'.
Features and Equipment
Upholstered Armchairs with Swivel Mounted on Fiberglass Console
Underseat Storage
Enclosed Foredeck Storage Compartment with Lock
Enclosed Rod Storage Compartment with Lock on Port Side
Rod Racks on Starboard Side
Fish Stringer Cleats
Bow and Stern Running Lights
Fused Wiring Harness and Switch
Mechanical Stick Steering
Deck Storage Trays
Molded Splash Rails
Bow and Stern Eyes
B.I.A. Approved Flotation
Specifications
Model Center Length Beam Depth Transom (H/W) Swivel Seats Capacity (Pounds/Persons) HP Weight (Lbs) Color

Fisherman I 14' 3" 63" 28" 20" * 58" 2 1,000 3 50 340 Olive

Fisherman II 14' 10" 56" 28" 20" 55" 2 1,000 3 50 330 Olive

Fisherman III 16' 3" 63" 21" 20" 58" 3 1,350 4 65 410 Olive

* May be converted to 15" by dealer for short shaft motor
* May be converted to 15" by dealer for short shaft motor

Bangor Punta's Wide World of Boating
DUO | JENSEN | O'DAY | SEAGOING | STARCRAFT | ULRICHSEN
A Bangor Punta Company
GG Archives REF: BPDUO-006-1971-C-FLY