DUO Roamer - Outboard Tri-V Hull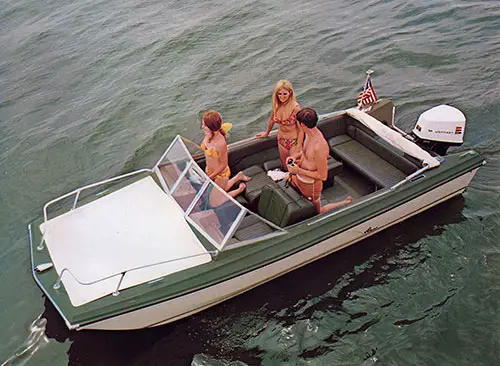 Get behind the wheel of the new Duo 17-foot Roamer and set course on the Royal Road to Adventure. The Tri Vee Roamer features additional seating for added convenience.
It's a family fun boat or a sporty pleasure craft. Rough weather Is no problem . . . just button down under canvas and ride out the storm.
Features and Equipment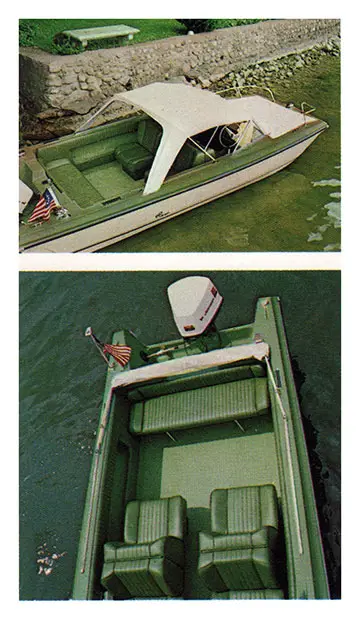 Walk-Thru Tempered Safety Glass Windshield
Deluxe Hard- Ware, Deluxe Mechanical Steering
Deluxe Bow and Stern Light with 3-Position Anchor Light Switch
Fold-Down Sun-Bather Bunk Seats
Deluxe Side Panels and Gunwale Pads (Combination)
Carpeting
Glove Box Complete with Lock
Full Cross Seat
Reflective Safety Stripe
Deluxe Bow Rails
Deluxe Vent Kit
Motor Well Curtain
Deluxe Step Pads
Top-Side-Aft Canvas Tonneau Cover & Center Console Curtain Installed
12-Gallon Gas Tank
Electric Fuel Gauge
Bow Seats
Saf-T-Foam Flotation
Specifications
Gunwale Length: 19' 2"
Center Length: 17'
Beam: 82"
Depth: 43"
Maximum Horsepower: 115
Approximate Weight: 1,000 Pounds
Color Options
Deck, Olive; Hull, Sand; Interior, Olive
Deck, Sand; Hull, Sand; Interior, Sand.
All Duo Boats are BIA certified and comply with the current regulations of the United States Coast Guard.

A Bangor Punta Company
GG Archives REF: BPDUO-003-1971-C-CAT