DUO Capitan 20 … Because You Want a Little More Boat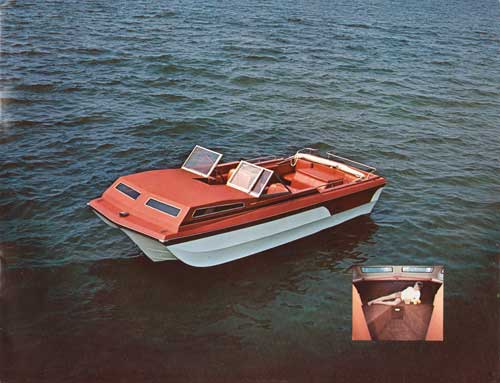 The DUO Capitan 20 shown with optional decor group.
That's what Capitan is -- a little more boat.
Duo starts with a big, sturdy 20-foot Tri Vee hull … then adds a roomy, luxurious interior and cuddy cabin forward. Really plush.
Inside…all the good things of life, like front V berths, glove box with lock, beverage rack, forward storage compartments, stern boarding ladder, step pads, 18-gallon gas tank, electric fuel gauge, sunbather bunk seats, stern seats, and deluxe bow rails and hardware.
Outside…a super slick hull design that combines with deluxe mechanical indicator steering and a big 165-188 hp power package, to take the Capitan through any water.
Launch the Capitan on your favorite lake. You may never come ashore.
CAPITAN 20 Specifications
Centerline length: 20' 4"
Beam: 90"
Depth: 58"
Maximum Capacity - People: 10
Maximum horsepower: 165-188
Approximate weight: 2,681 lbs.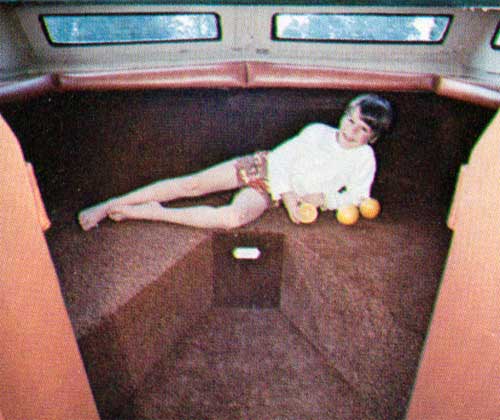 Photo Insert - Cabin of DUO Capitan 20
CAPITAN 20 Standard Equipment
Foam Flotation
B.I.A. Certified
Safety Glass Windshield
Deluxe Mechanical Steering
Deluxe Hardware
Deluxe Lighting / 3-Position Switch
Deluxe Vent Kit
Vent Louvers
Bilge Pump / Blower
Step Pads
Gas Tank Installed
Electric Fuel Gauge
Rear Seating
Sunbather Bunk Seats
Side Panels
Insulated Stern Well Compartment
Beverage Rack
Glove Box / Lockable
Top-Side-Aft Canvas
Forward Storage Compartments
Stern Boarding Ladder
CAPITAN 20 Options Available
Carpeting
Wood Grain Dash Trim
Two-Tone Hull
CAPITAN 20 Colors
Hull: Seacrest white with terra cotta
Deck: Terra cotta
Interior: Terra cotta
DUO MARINE
A Bangor Punta Company
GG Archives REF: BPDUO-001-1972-C-CAT