Duo Ranger 17 Deluxe Mechanical Steering and Forward Storage Compartments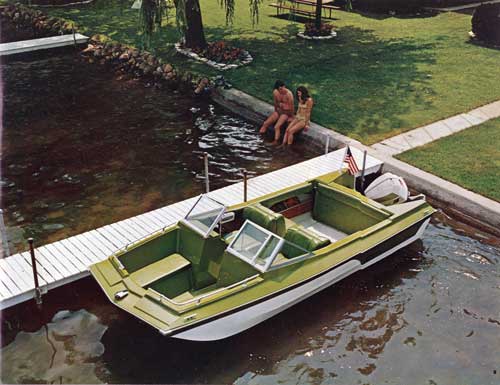 If you're conscious of a dollar value, you'll appreciate the 1973 17-Foot Ranger - more stability for pleasurable cruising … more room than other boats in its class … and more comfort.
Standard Equipment: walk-thru safety glass windshield, deluxe bow and stern light with 3-position anchor light switch, mechanical steering, fold-down sunbather bunk seats, gunwale pads, deluxe bow rails, center console curtain, and deluxe hardware.
Step-up Features: Include deluxe mechanical steering and forward storage compartments.
Rangers are very well-equipped boats … for those who know what a boating dollar should buy. At a time when so many boat manufacturers are cutting corners, it's nice to know you can still get your money's worth from Duo.
DUO Ranger 17
Ranger 17 Specifications
Centerline length: 16' 11"
Beam: 83"
Depth: 43"
Maximum Capacity - People: 7
Maximum horsepower: 115
Approximate weight: 950 lbs.
Ranger 17 Standard Equipment
Foam Flotation
B.I.A. Certified
Safety Glass Walk-thru Windshield
Deluxe Mechanical Steering
Deluxe Hardware
Deluxe Lighting / 3-Position Switch
Bow Rails
Sunbather Bunk Seats
Bow Seat Cushions
Wood Grain Side Panels
Forward Storage Compartments
Motor Well Curtain
Center Console Curtain
Ranger 17 Options Available
Top-Side-Aft Canvas
Two-Tone Hull
Ranger 17 Colors
Hull: Seacrest white with Bright Olive
Deck: Olive
Interior: Olive
DUO MARINE
A Bangor Punta Company
GG Archives REF: BPDUO-001-1972-C-CAT