DUO Avenger - Stern Drive, Wide V Hull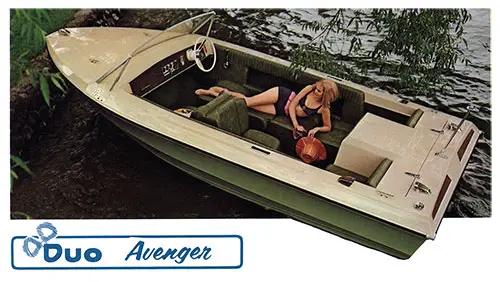 Avenger. It'll meet any demand you can put on it. Take it out on the open waterways. Avenger has more daring, more power, more speed in its Wide Vee hull. Dart across the waves in high style and comfort. Moonlight cruise?
Avenger's reflective safety stripe will leave your mind free of worry . . . so you can concentrate on more important matters. Saf-T-Foam flotation and full canvas are standard. Avenger. It's big on excitement.
Features and Equipment
Deluxe Plexiglass Sport Shield
Deluxe Mechanical Indicator Steering
Deluxe Hardware
Deluxe Bow and Stern Light with 3-Position Anchor Light Switch
Deluxe Vent Kit
Fold-Down Sunbather Bunk Seats
Twin Jump Seats in Rear
Deluxe Side Panels & Gunwale Pad (Combination)
Deluxe Carpeting
Electric Fuel Gauge
Bilge Pump
Bilge Blower
Battery
Battery Case
Glove Box Complete with Lock
Reflective Safety Stripe
18-Gallon Gas Tank
Top-Side-Aft Canvas Installed
Saf-T-Foam Flotation
Specifications
Gunwale Length: 17' 8.5"
Center Length: 16' 6"
Beam: 84"
Depth: 41.5"
Maximum Horsepower: 140
Approximate Weight: 1,685 Pounds
Color Options
Deck, Sand; Hull, Mint Gold; Interior, Mint Gold
Deck, Sand; Hull, Olive; Interior, Olive
All Duo Boats are BIA certified and comply with the current regulations of the United States Coast Guard.

A Bangor Punta Company
GG Archives REF: BPDUO-003-1971-C-CAT