DUO Vagabond 17 Deluxe Mechanical Steering In A Family Boat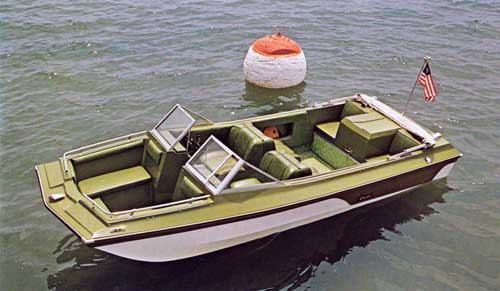 Vagabond is the big step up in boating luxury. That's why it's my boat.
The entire Vagabond family features comfort control features like deep cushioned sunbather bunk seats*, stern jump seats and bow seats, walk-thru tempered safety glass windshield, top-side-aft canvas and center console curtain installed, electric fuel gauge, deluxe side panels and gunwale pads, gas tank, and deluxe bow rails.
All Vagabonds also offer the Optional Decor Group, which includes carpeting, wood grain dash trim, and two-tone hull.
In addition, the 17-foot Vagabond offers step pads, an 18-gallon gas tank, deluxe mechanical steering, glove box with lock, and forward storage compartments.
Vagabond is the big step up -- for people who know luxury when they see it.
DUO Vagabond 17
Vagabond 17 Specifications
Centerline length: 16' 11"
Beam: 83"
Depth: 43"
Maximum Capacity - People: 7
Maximum horsepower: 120, 140, 165
Approximate weight: 1,756 lbs.
Vagabond 17 Standard Equipment
Foam Flotation
B.I.A. Certified
Safety Glass Walk-thru Windshield
Deluxe Mechanical Steering
Deluxe Hardware
Deluxe Lighting / 3-Position Switch
Deluxe Vent Kit
Bilge Pump / Blower
Bow Rails
Step Pads
Gas Tank Installed
Electric Fuel Gauge
Rear Seating
Sunbather Bunk Seats
Bow Seat Cushions
Side Panels
Glove Box / Lockable
Top-Side-Aft Canvas
Forward Storage Compartments
Bow Compartment Canvas
Center Console Curtain
Vagabond 17 Options Available
Carpeting
Wood Grain Dash Trim
Two-Tone Hull
Vagabond 17 Colors
Hull: Seacrest white with bright olive
Deck: Olive
Interior: Olive
DUO MARINE
A Bangor Punta Company
GG Archives REF: BPDUO-001-1972-C-CAT