DUO Spoiler - Outboard - Tri-V Hull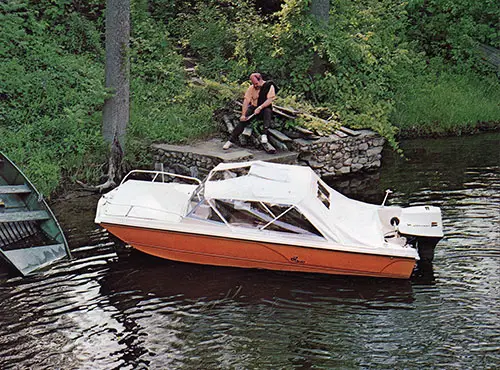 Duo's Spoiler — an all-around good sport. What'll it be? Fishing, swimming, skiing . . . or maybe just lazing in the sun on a sandy quay, your Spoiler beached alongside you for company.
The Spoiler rigs in a minute for rough water. Full canvas with zip hatch and tonneau cover is standard equipment. Bunk seats fold down for sunning or sleeping, carpeting is deluxe . . . Saf-T-Foam flotation and reflective safety stripes are also standard.
Features and Equipment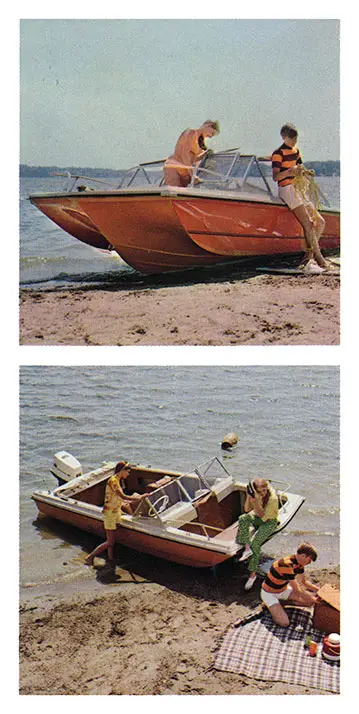 Walk-Thru Tempered Safety Glass Windshield
Mechanical Steering
Deluxe Bow and Stern Light with 3-Position Anchor Light Switch
Fold-Down Sunbather Bunk Seats
Deluxe Side Panels and Gunwale Pads (Combination)
Motor Well Curtain
Deluxe Bow Rails
Top-Side-Aft Canvas
Tonneau Cover and Center Console Curtain Installed
Saf-T-Foam Flotation
12-Gallon Gas Tank
Electric Fuel Gauge
Bow Seat
Reflective Safety Stripe
Deluxe Step Pads
Deluxe Carpeting
Specifications
Gunwale Length: 17' 6"
Center Length: 15' 1"
Beam: 73"
Depth: 36"
Maximum Horsepower: 85
Approximate Weight: 800 Pounds
Color Options
Deck, Sand; Hull, Mint Gold; Interior, Mint Gold
Deck, Olive; Hull, Sand; Interior, Olive
All Duo Boats are BIA certified and comply with the current regulations of the United States Coast Guard.

A Bangor Punta Company
GG Archives REF: BPDUO-003-1971-C-CAT