DUO Voyager - Outboard, Wide V Hull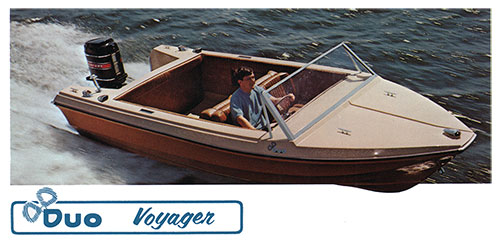 With the Duo Voyager, you don't just taste excitement, you live it. The Wide Vee cuts through blue water like a flashing saber . . . high-spirited, but gentle as a kitten.
Voyager follows your slightest command. Fiberglass makes it tough and allows the Voyager to take up to 125 horses.
It's a Duo Voyager, and that means full canvas, Saf- T-Foam flotation, and reflective safety stripes are standard.
Features and Equipment
Deluxe Plexiglass Sport Shield
Deluxe Mechanical Steering with Wood Sport Steering Wheel
Deluxe Bow and Stern Light with 3-Position Anchor Light Switch
Deluxe Vent Kit
Fold-Down Sunbather Bunk Seats
Deluxe Carpeting
Deluxe Side Panels & Gunwale Pads (Combination)
Motor Well Curtain
Top-Side-Aft Canvas Installed
Glove Box Complete with Lock
Reflective Safety Stripe
18-Gallon Gas Tank Installed
Electric Fuel Gauge
Saf-T-Foam Flotation
Specifications
Gunwale Length: 17' 8.5"
Center Length: 16' 6"
Beam: 84"
Depth: 41.5"
Maximum Horsepower: 125
Approximate Weight: 950 Pounds
Color Options
Deck, Rally Blue; Hull, Rally Blue; Interior, Sand
Deck, Sand; Hull, Mint Gold; Interior, Mint Gold
All Duo Boats are BIA certified and comply with the current regulations of the United States Coast Guard.

A Bangor Punta Company
GG Archives REF: BPDUO-003-1971-C-CAT