DUO Roamer 15 Engineered Family Outboard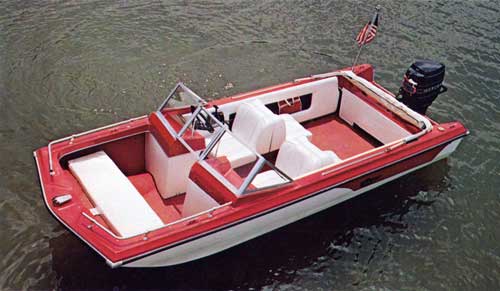 The 1973 DUO Roamers …roomy…comfortable… the befit engineered family outboards I've seen
Superb space utilization and attention to interior comfort details…look for them in the '73 Roamers.
All Roamers offer interior arrangements that allow maximum seating space …with fold-down sunbather bunk seats, and bow seating. Roamers also have luxury features such as marine vinyl carpeting, wood grain dash trim, rich side panel upholstery, and step pads.
Comfort controls in the 15-foot Roamers include walk-thru tempered glass windshield, topside-aft canvas, tonneau cover and center console curtain installed, 12-gallon gas tank, electric fuel gauge and deluxe bow rails.
Add power, and you have the ultimate in family outboard boating -- a boat that's thrifty, good looking, spacious, responsive for water sports, and very trailerable.
DUO Roamer 15
Roamer 15 Specifications
Centerline length: 15' 2 "
Beam: 73"
Depth: 40"
Maximum Capacity - People: 6
Maximum horsepower: 85
Approximate weight: 840 lbs.
Roamer 15 Standard Equipment
Foam Flotation
B.I.A. Certified
Safety Glass Walk-thru Windshield
Deluxe Mechanical Steering
Deluxe Hardware
Deluxe Lighting / 3-Position Switch
Bow Rails
Step Pads
Gas Tank Installed
Electric Fuel Gauge
Sunbather Bunk Seats
Bow Seat Cushions
Side Panels
Top-Side-Aft Canvas
Motor Well Curtain
Bow Compartment Canvas
Center Console Curtain
Roamer 15 Options Available
Carpeting
Wood Grain Dash Trim
Two-Tone Hull
Roamer 15 Colors
Hull: Seacrest white with Candy Apple Red
Deck: Candy Apple Red
Interior: White
DUO MARINE
A Bangor Punta Company
GG Archives REF: BPDUO-001-1972-C-CAT