DUO 1973 … Because You Know A Little More About Boating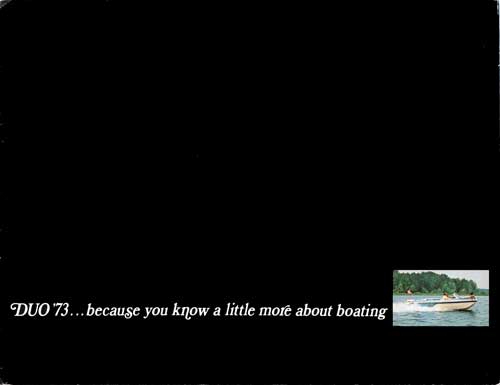 1f you're considering Duo for '73, chances are you've owned a boat before. Most people who buy Duo have. They know what to look for in a boat … and they're ready to step up to Duo.
I don't mean you have to be a marine engineer or boat designer -- and you certainly don't have to be a television sportscaster -- to appreciate fine boating.
The kind of boating you get with Duo. Nor do I pretend to be an expert myself … but I've been around boats and boating long enough to know what's important in pleasure boats. That's why my choice is Duo.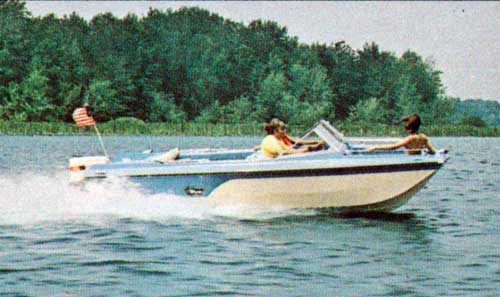 The first thing I look for is performance; what are the handling characteristics? Experienced boaters can tell quickly that Duo performance is superior.
The unique and proven Tri Vee hull gives a real ride -- soft and easy. Just hit the throttle and Duo is up and out of the water fast, planing almost instantly, taking the chop right in stride and keeping you level and dry.
Every experienced boater knows that what's inside a boat is as important as anything else, and Duo doesn't skimp on interiors. With Duo, extras are standard … and the workmanship and materials are "first cabin" throughout.
For my family, plenty of storage is a must, and Duo has it. Not only has it, but has it conveniently located so you don't have to struggle to get what you need.
There's extra comfort with Duo, too. Big cushiony gunwale and bow rider padding, fold-down sunbather seats pioneered in the industry by Duo, and everything in the right place so you have plenty of room to move about.
Table of Contents
Ask someone who owns a Duo. Find out why Duo is for those people who know a little more about boats.
DUO Boat Specifications
NOTE:
X indicates Standard Equipment. Duo reserves the right to change all prices, illustrations.
0 indicates optional and specifications without notice or obligation.
Duo Warranty
All Duo boats are warranted for a period of twelve months from the date of purchase against defects in material and workmanship, and boats will be repaired at the factory at no charge during the warranty period.
Duo will repair all defects falling within the above warranty free of labor and materials charges if the boat is returned to the factory during the warranty period. Freight charges to and from the factory shall be borne by the boat owner. not Duo. This warranty applies only to the original owner of a Duo boat.
The judgement of our factory trained experts is final as to the extent of liability. Any repair made as a result of an accident, neglect, alteration, or abuse will be made at a charge to the owner.
OTHER THAN AS HEREIN STATED DUO MAKES NO WARRANTY OF MERCHANTABILITY AND THERE ARE NO WARRANTIES WHICH EXTEND BEYOND THE DESCRIPTION ON THE FACE HEREOF.
DUO
A Bangor Punta Company
GGA REF: BPDUO-001-1972-C-CAT