DUO Cadet and Seamaster Fishing Boats (1971)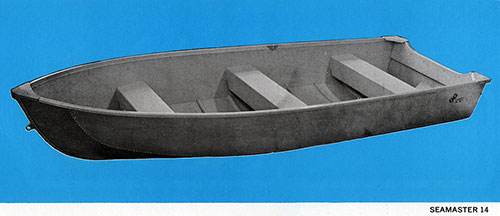 Rugged and ready to go with plenty of room for all the gear. Duo fishing boats feature 5052 marine aluminum hulls for maximum strength and safety.
Yet, they are light enough to transport on your car top. Get to the water quickly for fishing or family fun with a Duo Cadet or Seamaster.
Features and Equipment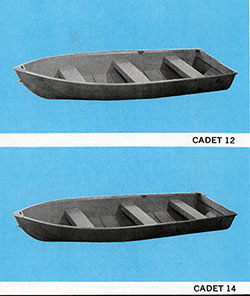 Painted Non-Skid Interior
Natural Finish Exterior
Oar Locks
Aluminum Seats
Bow and Stern Castings with Lifting Handles
Aluminum Gunwale Extrusions
Bow Eye
Plywood Motor Mount
Aluminum Transom Cap
Saf-T-Foam Flotation
Specifications
B.I.A. Approved
Model Center Length Gunwale Length Bm. D. Transom (W/H) Recommended Capacity (Lbs Persons HP) Approx. Weight Aluminum Thickness (Bot & Ribs, Sides, Trans, Keel)
Cadet 12 12' 12' 8" 52" 21" 47" 15" 500 2 10 106 Lbs. .053 .075 .086 .077

Cadet 14 14' 14' 8" 53" 21" 47" 15" 700 3 15 116 Lbs. .053 .075 .086 .077

Seamaster 14 14' 2" 15' 63" 26" 54" 16" 850 4 20 170 Lbs. .065 .060 .086 .077

Bangor Punta's Wide World of Boating
DUO | JENSEN | O'DAY | SEAGOING | STARCRAFT | ULRICHSEN
A Bangor Punta Company
GG Archives REF: BPDUO-007-1971-C-FLY