DUO Boats - Specifications, Features, and Standard Equipment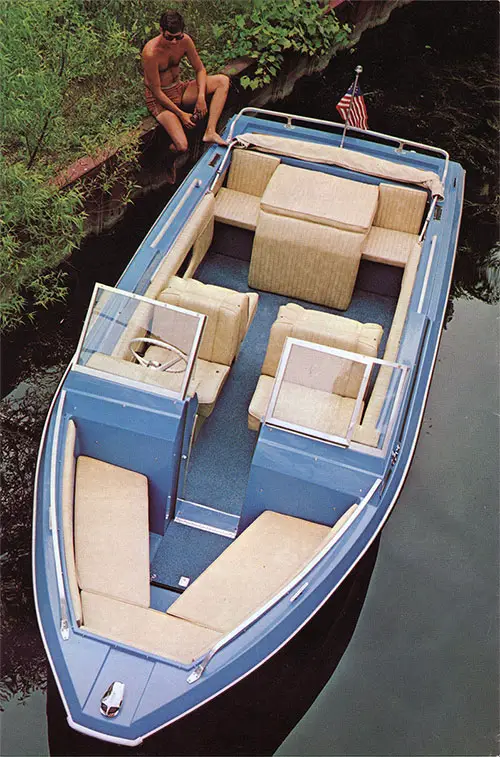 Take Time to check these standard features on most Deluxe Duo Boats
Full Top-Side-Aft Canvas, Complete with Boot and Installed Hardware
Twin Insulated Stern Wells
Battery and Battery Box
Gas Tank and Fuel Gauge
Upholstered Motor Well Cover on 1/0 Models
Extra Wide Fold Down Sunbather Bunks
Full Instrumentation
Keyed Lock Glove Box
Custom Padded Heavy Duty Marine Vinyl Seats and Side Panels
Deluxe Hardware and Running Lights
SAF-T-FOAM Flotation In Hull and Deck
Reflective Safety Stripe
Tonneau Cover and Console Curtain for Open Bow Models
At Duo, "extras" are standard equipment.
DUO BIA Certification and Warranty
All Duo Boats are BIA certified and comply with the current regulations of the United States Coast Guard.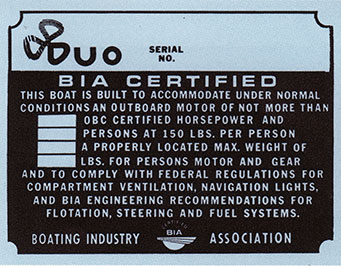 All Duo fiberglass boats are warranted for a period of twelve months from the date of purchase against defects In material and workmanship, and boats will be repaired at the factory at no charge during the warranty period.
Duo will repair all defects falling within the above warranty free of labor and materials charges If the boat Is returned to Its factory during the warranty period. Freight charges to and from the factory shall be borne by the boat owner, not Duo.
The judgment of our factory-trained experts Is final as to the extent of liability. This warranty applies only to the original owner of a Duo fiberglass boat. Duo makes no other warranty, representation, or agreement, expressed or Implied.
Specifications and Standard Equipment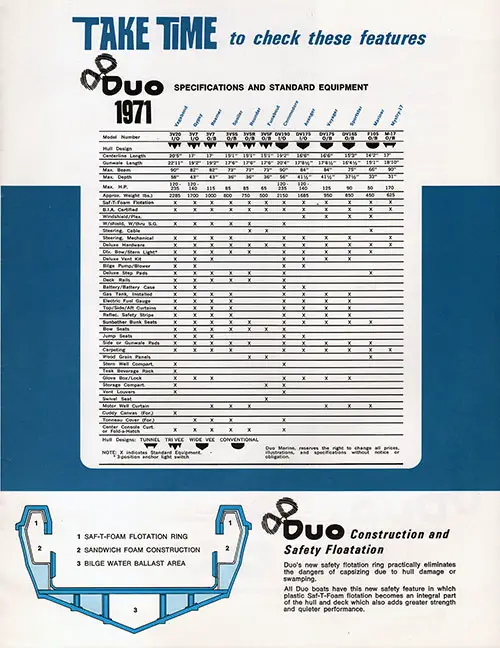 DUO Construction and Safety Flotation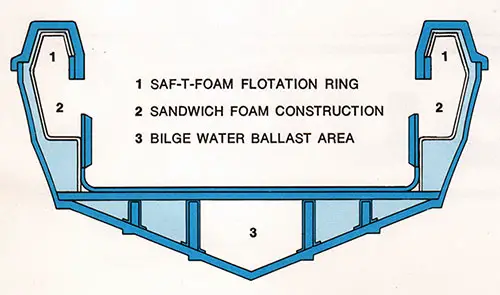 Duo's new safety flotation ring practically eliminates the dangers of capsizing due to hull damage or swamping.
All Duo boats have this new safety feature in which plastic Saf-T-Foam flotation becomes an integral part of the hull and deck which also adds greater strength and quieter performance.

Bangor Punta's Wide World of Boating
DUO | JENSEN | LUHRS | O'DAY | SEAGOING | STARCRAFT | ULRICHSEN
A Bangor Punta Company
GG Archives REF: BPDUO-003-1971-C-CAT