1980 Saratoga SP & Turbo Saratoga SP
Right now, you're considering making a pretty hefty investment in a high performance, six place single. Wouldn't it be nice if you could get a little more comfort for you and your passengers, a little more pleasure out of flying, a little more over all performance?
Piper thought so, too. That's why we were pleased to find out that what worked so well on the new Saratoga works even better on a retractable.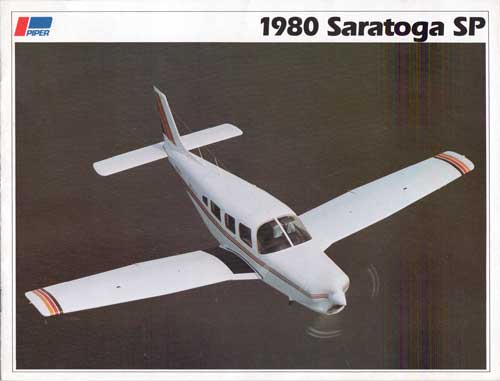 Advanced aerodynamics like semi-tapered wings with flush riveting and recessed fuel caps that cut down drag. And exclusive options, like Weather-Scout I radar built into the wing's leading edge and a complete de-Icing package that clears you for flight into known icing.
And the retractable gear gives Saratoga SP even more impressive performance than its fixed gear sister.
Of course, the interior features that are so important on the Saratoga are just as special in a retractable. Features including Piper's board-room interior, where six sets of shoulders don't have to bump into each other; built in oxygen outlets at each seat; an executive work table; and a thermal refreshment center.
Introducing the new Saratoga SR Now you've got "Special Performance" in retractable six place singles.
Saratoga SP combines low drag aerodynamic design with "Special Performance" for mission flexibility.
The Saratoga SP with its 300 hp Lycoming engine, gives long range performance while taking it easy on fuel.
he fuel tanks hold over 100 gallons, so you can fly 983 nm (1132 statute miles) and still have the required 45 minute fuel reserve. And you can cruise at almost 160 kts (over 180 mph). "Special Performance" means long trips don't take long.
Or you can choose the Turbo Saratoga SP for added performance. Available with optional 3 bladed propeller, it's got full power (300 hp) for climbing all the way up to 16,000 feet. And the power to go higher when you need it. As a matter of fact, you've still got 75% power available, even at 20,000 feet.
Turbo Saratoga SP puts you well above most traffic and weather where you can take advantage of tail winds and fuel economy "SP" means a top speed of 195 kts (225 mph) that will get where you're going in a hurry and turbo power for "Special Performance" at high altitude airports, even on hot summer days.
Features of the 1980 Piper Saratoga SP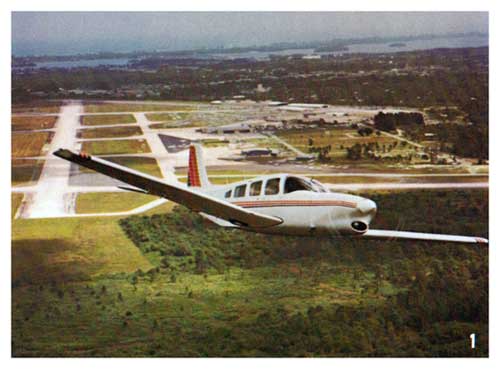 Feature 1: Turbo Saratoga SP handles shorter fields with ease, clearing a SO ft. obstacle in 1420 ft., with a ground roll of 960 ft.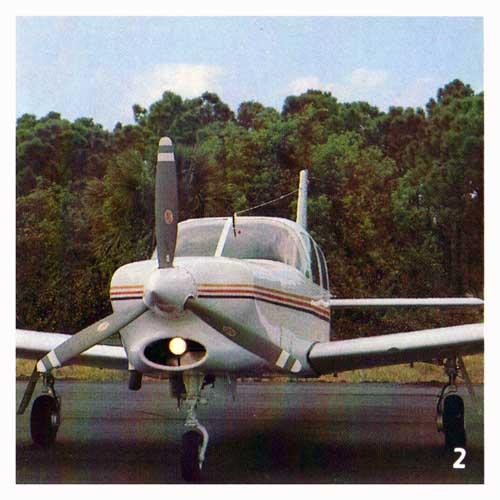 Feature 2: Optional 3 bladed prop gives you better clearance when taxiing and shorter take-off distance.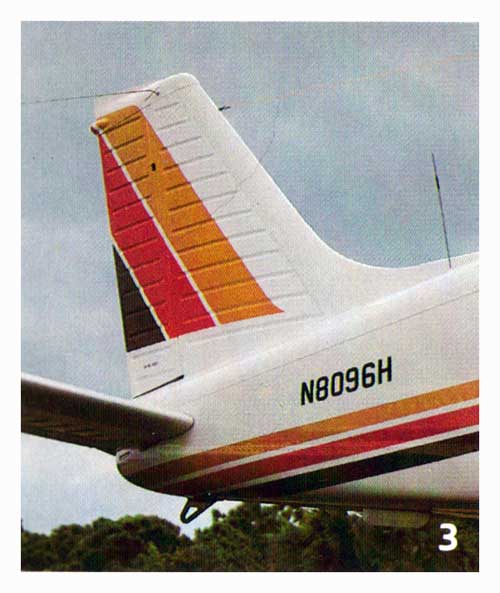 Feature 3: Saratoga SP's dynamic exterior graphics add to its sleek design.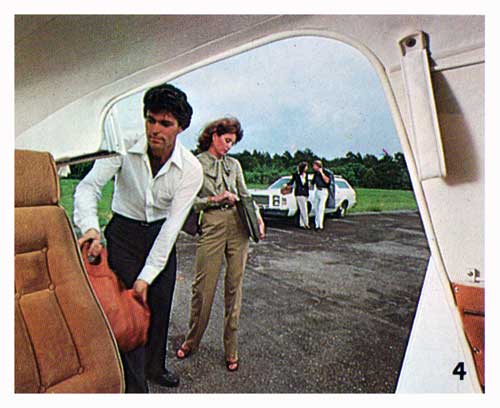 Feature 4: Rear double doors open almost 41/2 feet wide to make loading and unloading easy.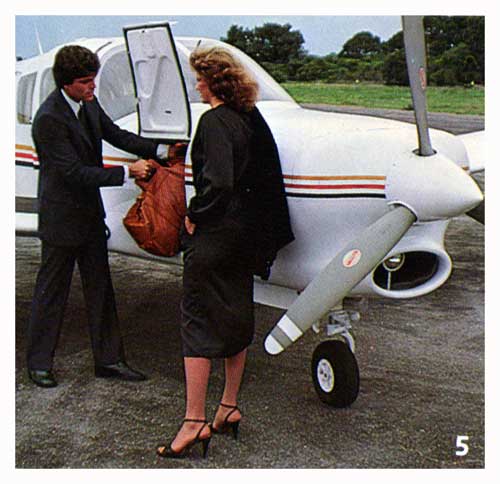 Feature 5: Front and aft compartments give you almost 25 cubic feet of luggage space.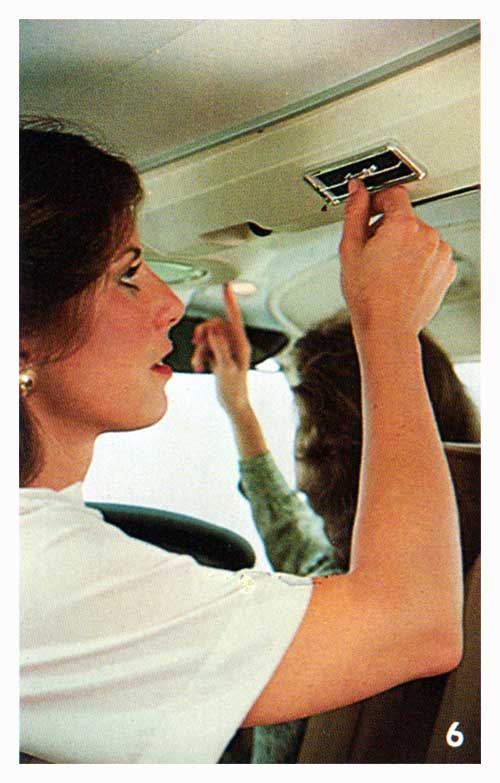 Feature 6: Air vents are standard over each seat for your passengers' comfort.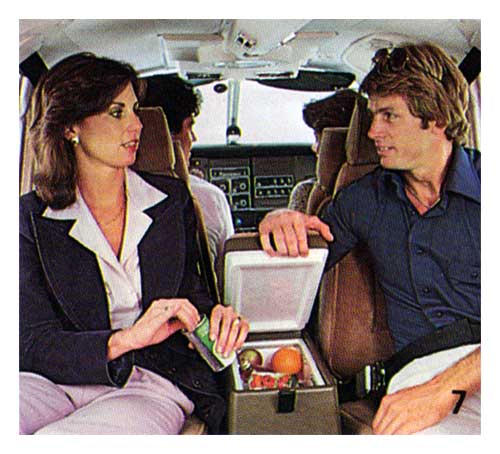 Feature 7: Refreshment console keeps hot and cold food convenient while it serves as a wide center armrest.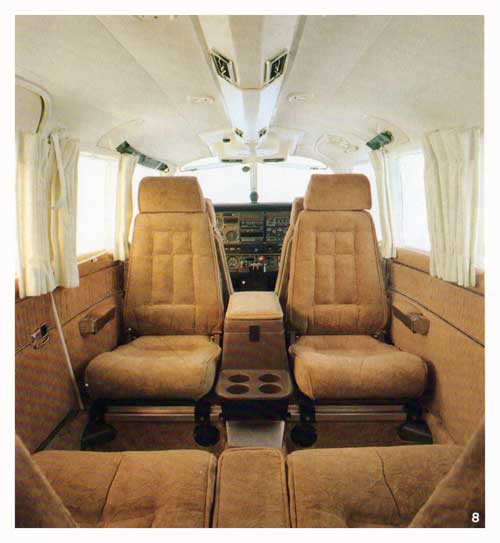 Feature 8: Contoured, reclining seats are color coordinated with plush carpeting and padded side panels.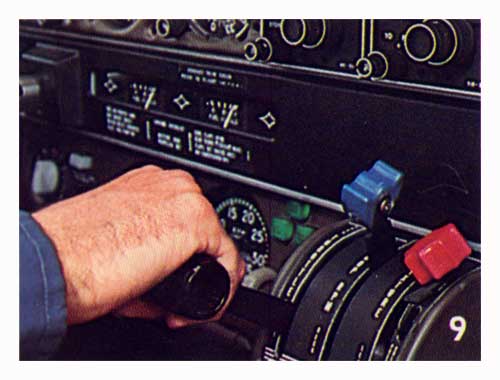 Feature 9: Throttle, prop and mixture controls are grouped in a convenient central power quadrant.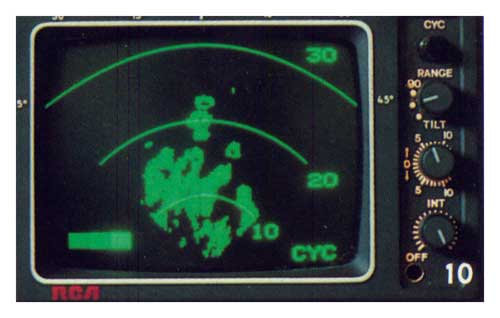 Feature 10: RCA WeatherScout I radar keeps you informed of conditions ahead with an antenna housed in the wing's leading edge.
Both airplanes give "Special Performance" because of their clean aerodynamic design and retractable gear. The wings are semi-tapered for extra lift during take-off and climb. Parasite drag has been cut to a minimum with flush fuel caps and flush riveting on the wing's leading edge.
The semi-tapered wing with inboard ailerons makes handling a pleasure in all flight configurations.
And "Special Performance" means full weather flexibility normally found only on twins. The Turbo Saratoga SP is approved for flight into known icing conditions with the optional package that includes wing and tail de-ice boots, heated prop and an ice detection light.
Both airplanes can be equipped with RCA WeatherScout I radar. Unlike other single-engine radar which requires a pod protruding from the wing to house the antenna, WeatherScout's lightweight dish antenna is mounted entirely within the semi-tapered wing, so you can add radar without adding drag or excess weight.
The Saratoga SP was designed to give the "Special Performance" that best meets your flight requirements. The Saratoga SP succeeds.
Could you call it a cabin class single?
The Saratoga SP interior is the next best thing to cabin class. It's definitely the 747 of six-place singles. Saratoga SP is 15% wider than its closest competitor. As a matter of fact, it's only about one inch narrower than our luxury cabin class Navajo.
So, with the front facing arrangement, there's even room fo an extra seventh seat. Or you can choose the deluxe conference seating with jndividual armrests, a thermal,hot and cold refreshment center and stowable work table.
Whichever arrangement suits your needs, you can be sure of quiet elegance and good taste. Fine upholstery in a choice of fine fabrics or plush velours coordinated with plush carpeting, wall panels and curtains over wide, tinted windows.
Fresh air vents are standard over each seat. You can add air conditioning and, on the Turbo Saratoga SP individual overhead oxygen outlets.
When your Saratoga SP has to work as a load hauler, seats can be removed quickly and easily. The over 4 foot wide rear doors accept even bulky cargo.
Up front, it's apparent that the cockpit was designed by pilots who fly regularly in today's IFR environment. For example, throttle, prop and mixture controls are grouped in a central power quadrant.
You'll enjoy the convenience of an optional radio master switch and the clear undistorted voice reception of a high fidelity speaker.
The wide low-profile panel gives maximum over-the-nose visibility plus more room to organize the latest avionics by King, Collins and Narco. It can accommodate all your IFR needs from basic equipment to installations that include DME, RNAV, HSI, and the new RCA WeatherScout I radar.
All IFR packages include an AutoControl IIIB autopilot. Or choose the AltiMatic IIIC, KAP 200 or the KFC 200 autopilot/flight director. These options and others can be installed by experienced Piper technicians for extra savings.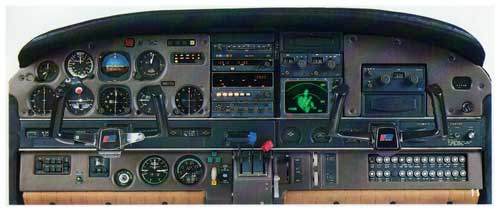 Saratoga SP's wide low profile panel gives excellent visibility and can accommodate the latest avionics.
Piper's exclusive automatic gear extension system is standard to provide extra security with today's pilot workload.
Designing and building outstanding aircraft has made Piper a leader in general aviation for nearly 50 years.
That leadership shows in 28 different models from the modern Tomahawk trainer to the Cheyenne family of corporate turboprops. When you fly Piper's new Saratoga SP a half century of aviation experience flies with you.
PIPER
Piper Aircraft Corporation reserves the right to make changes in specifications, materials, equipment or price at any time without prior notice or to discontinue models as required.
It is the responsibility of the pilot to conduct all operations in accordance with the FAA-approved Pilot's Operating Handbook which is the only official source of data.
All operating procedures, specifications, performance data, and measurements are stated as U.S. standards. For data applicable in countries other than the United States, consult the appropriate Pilot's Operating Handbook.
PIPER
More airplane for the dollar.
Piper Aircraft Corporation, Lock Haven, PA 17745
Member of GAMA
A Bangor Punta Company
GG Archives REF: BPPAC-006-1980-C-BRO