Piper Aircraft News Release: Cheyenne III Deliveries Underway (1980)
Piper News Copy
FOR IMMEDIATE RELEASE
September 18, 1980
FOR FURTHER INFORMATION CONTACT:
John W. Alter, Jr. (717) xxx-xxxx
CHEYENNE III DELIVERIES UNDERWAY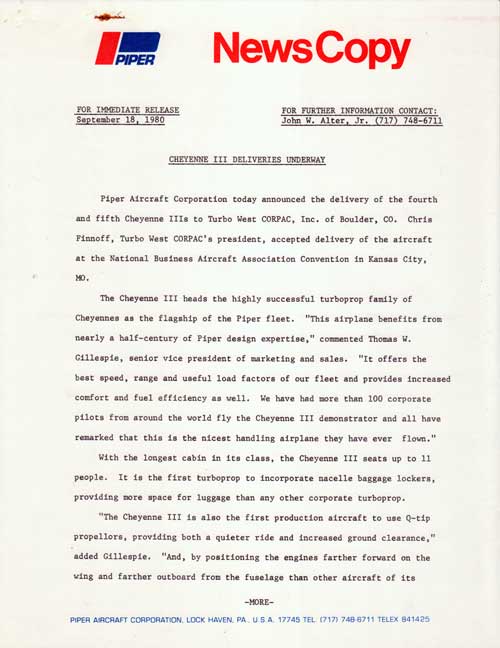 Piper Aircraft Corporation today announced the delivery of the fourth and fifth Cheyenne III's to Turbo West CORPAC, Inc. of Boulder, CO.
Chris Finnoff, Turbo West CORPAC's president, accepted delivery of the aircraft at the National Business Aircraft Association Convention in Kansas City, MO.
The Cheyenne III heads the highly successful turboprop family of Cheyennes as the flagship of the Piper fleet. "This airplane benefits from nearly a half-century of Piper design expertise," commented Thomas W. Gillespie, senior vice president of marketing and sales. "It offers the best speed, range and useful load factors of our fleet and provides increased comfort and fuel efficiency as well.
We have had more than 100 corporate pilots from around the world fly the Cheyenne III demonstrator and all have remarked that this is the nicest handling airplane they have ever flown."
With the longest cabin in its class, the Cheyenne III seats up to 11 people. It is the first turboprop to incorporate nacelle baggage lockers, providing more space for luggage than any other corporate turboprop.
"The Cheyenne III is also the first production aircraft to use Q-tip propellers, providing both a quieter ride and increased ground clearance," added Gillespie.
"And, by positioning the engines farther forward on the wing and farther outboard from the fuselage than other aircraft of its class, we have made the Cheyenne III the quietest turboprop in the general aviation industry.
"Each year aircraft are required to undergo more extensive testing to achieve certification, and the Cheyenne III has undergone more rigorous testing than any previously certified turboprop," Gillespie said.
"It looks like it will be a popular aircraft. Piper's order backlog on the Cheyenne III totals about $75 million and runs into the fall of 1981," concluded Gillespie.
PIPER
More airplane for the dollar.
Piper Aircraft Corporation, Lock Haven, PA 17745
Member of GAMA
A Bangor Punta Company
GG Archives REF: BPPAC-030-1980-C-PR