Piper Saratoga - Moving Pianos and 3-Hour Flights (1980)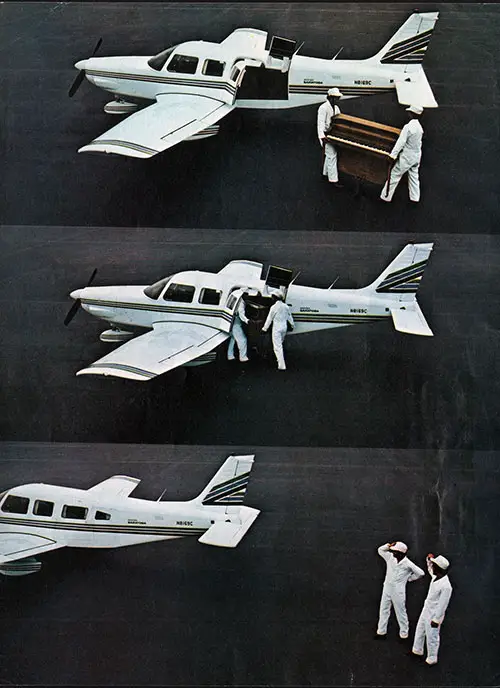 If you heard the one about the man who moved the piano, wait till you hear this one.
Over on the left is a new Piper Saratoga swallowing a spinet piano.
Some of you might remember that we tried this stunt a while ago with a Piper Six-300.You might also remember how easily we pulled it off.Well, believe it or not, it's getting even easier.
The new Piper Saratoga fixed-gear, successor to the Six-300, actually carries 7% more useful load—a full 1,675 pounds.So the 375-pound weight of the piano was, once again, no problem at all. And there was even more weight capability than before left over.
Getting the piano inside the airplane was no problem, either. Because the Saratoga has large double doors in the back, a cumbersome object on the order of a bulky piano slides in with room to spare.
All loaded down, we took the Saratoga up for a ride. With a piano, a pilot and a piano mover inside, not a drop of performance seemed to be lost. Takeoff was quick and the airplane was fast.
Which is not surprising one bit, considering that the Saratoga's new semi-tapered wing, flush-riveted forward of the spar, helps give the airplane the shortest take-off distance in its class (1,573 feet) and the fastest cruise speed in its class (150 knots at 10,000 feet).
And because the new wing carries up to 8 gallons more fuel, the Saratoga now offers the longest range in its class (960 miles at 55% power and 823 miles at 75% power, plus a 45- minute reserve).
We've also taken into account the likelihood that when you're not out hauling pianos and such, you might want to put the seats back in and fly people.
That's when you'll discover the virtues of the Saratoga's optional air conditioning, conference, seating, refreshment console and interior finish worthy of the finest corporate airplanes.
Not to mention Piper's exclusive DynaCushion engine mounts—a system that reduces vibration to an extent equaled only by large, multi-engine aircraft. If you're still skeptical about the spinet piano, though, here's a suggestion. Borrow one.
Then see your authorized Piper Dealer- conveniently listed in the Yellow Pages—and tell him you'd like to see the small airplane that carries large things.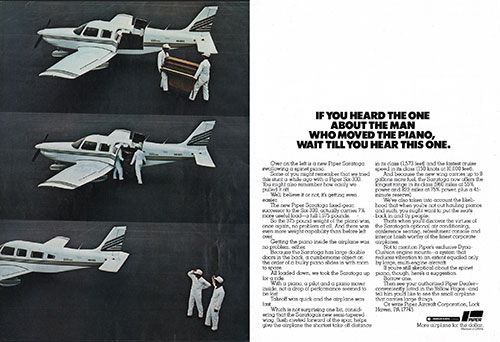 A 500-Mile Trip in Any Airplane Will Take About Three Hours. but Which Would You Rather Spend Three Hours In?
As it happens, sitting is all there is to do nearly 90% of the time you spend in the air on an average flight. If you're going to do your sitting in a cramped airplane, its going to be a bad flight. It's as simple and as logical as that.
Speed is not going to solve this problem. Because, even in the fastest retractable-gear, turbocharged, six-place single—one with a 214-knot maximum speed—a 500-mile trip takes only thirteen minutes less than it does in an airplane like the Turbo Saratoga SP.
Which is what led the designers and engineers at Piper Aircraft to a somewhat startling conclusion: What is lacking most in single-engine airplanes today isn't speed. It's comfort.
THE PIPER SARATOGAS. SIX-PLACE SINGLES THAT EMBARRASS TWINS.
The newly redesigned Saratoga SP retractable and Turbo retractable are, simply stated, the most comfortable single-engine aircraft you can buy. From one side of the Saratoga interior to the other is a distance of over four feet.
More interior width than 37 singles, 19 twins, even one corporate turboprop. By comparison, the Beech Bonanza is seven inches narrower. The Cessna Centurion is six and a half inches narrower and lacks sufficient headroom to allow full-size adults to sit back in the two rear seats.
When you think about it, it becomes more realistic to compare the interior of the Saratogas to the interiors of airplanes like the Duke, the Navajo, the Conquest, the Cheyennes and the King Airs. And not just because of room.
Consider also Pipers exclusive Dyna-Cushion engine mounts—a system that reduces interior vibration to an extent equaled only by large, multi-engine aircraft.
Consider also the Saratogas' optional air conditioning, conference seating, refreshment console and interior finish worthy of the finest corporate airplanes.
Sit Back, Stretch out Enioy the Performance
Which is not to say that the Saratoga SPs leave anything to be desired by way of performance and economy. You'll find they offer the shortest take-off distance in their class, the longest TBO in their class, better rates of climb than the Cessna Centurion and Turbo Centurion, less direct operating cost and far greater useful load than the Beech Bonanza A-36 and A-36TC.
And something else. Maybe it has to do with the Saratogas' new semi-tapered wing, flush-riveted forward of the spar. Or in-the-wing mounting of optional radar to eliminate drag.
Or maybe it has to do with the Saratogas' landing gear, with the widest track in their class for extra stability in crosswinds. It may even be a matter of little things like flush-mounted fuel caps and inboard ailerons.
Whatever the precise reason, or reasons, we think you'll find the advanced aerodynamics of the Piper Saratogas make them better airplanes to just plain fly than anything else in their class. But the last thing we want you to do is take our word for it.
We'd much prefer it if you would look up your Piper Dealer in the Yellow Pages, or write Piper Aircraft Corporation, Lock Haven, PA 17745, and arrange for your own test flight of the Saratoga SP and Turbo Saratoga SP.
They won't get you where you're going any faster than the competition. But they will undoubtedly make it seem that way
PIPER
More airplane for the dollar.
Piper Aircraft Corporation, Lock Haven, PA 17745
Member of GAMA
A Bangor Punta Company
GG Archives REF: BPPAC-038-1980-C-AD