Piper Turbo Dakota Four-Place, Fixed-Gear Single Engine Plane (1979)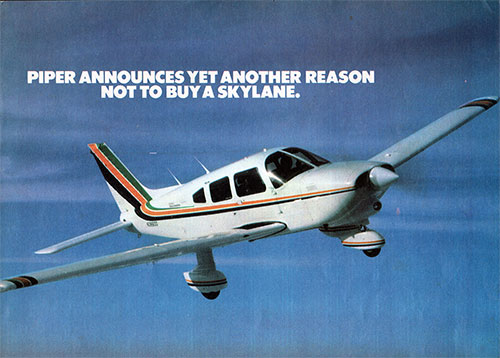 This is the new Piper Turbo Dakota.
And like the Piper Dakota introduced last year, it's an airplane capable of making even the most loyal of Cessna's admirers have second thoughts.
There's never before been an airplane quite like it. The Turbo Dakota is absolutely the first four-place, fixed-gear, single-engine, turbocharged airplane ever to roll off a production line.
Which means there are things you can do in a Turbo Dakota that you can't do in any other four- place, fixed-gear single, Stylane included.
It can cruise at altitudes up to 20,000 feet and take advantage of the most favorable winds.
You can clear many weather situations, instead of flying through or around them.
You can load the airplane, up and take off from a high-altitude airport. Even on a hot day.
And with its altitude capability, .the Turbo Dakota present's yet another dimension of .performance.
Raw Speed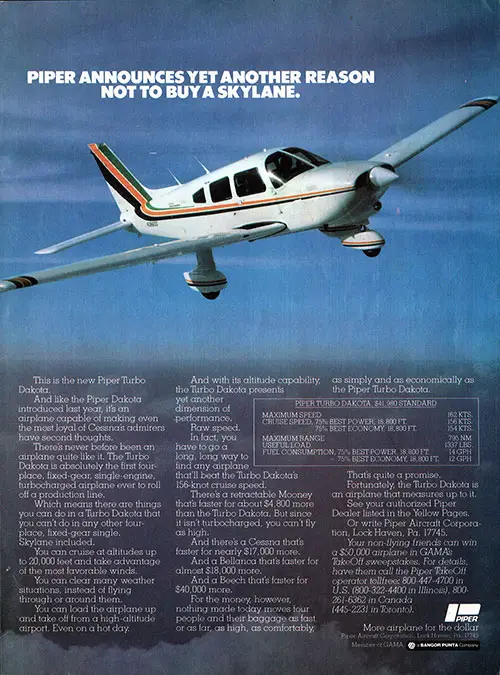 In fact, you have to go a long, long way to find any airplane that'll beat the Turbo Dakotas 156-knot cruise speed.
There's a retractable Mooney that's faster for about $4,800 more than the Turbo Dakota. But since it isn't turbocharged, you can't fly as high.
And there's a Cessna that's faster for nearly $17,000 more.
And a Bellanca that's faster for almost $18,000 more.
And a Beech that's faster for $40,000 more.
For the money; however, nothing made today moves four people and their baggage as fast or as far, as high, as comfortably as simply and as economically as the Piper Turbo Dakota.
PIPER TURBO DAKOTA $41,980 STANDARD
MAXIMUM SPEED: 162 KTS.
CRUISE SPEED: 75% BEST POWER, 18,800 FT: 156 KTS.
CRUISE SPEED: 75% BEST ECONOMY, 18,800 FT: 154 KTS.
MAXIMUM RANGE: 795 NM
USEFUL LOAD: 1337 LBS.
FUEL CONSUMPTION: 75% BEST POWER, 18,800 FT: 14GPH
FUEL CONSUMPTION: 75% BEST ECONOMY, 18,800 FT: 12GPH
That's quite a promise.
Fortunately the Turbo Dakota is an airplane that measures up to it.
See your authorized Piper Dealer listed in the Yellow Pages.
PIPER
More airplane for the dollar.
Piper Aircraft Corporation, Lock Haven, PA 17745
Member of GAMA
A Bangor Punta Company
GG Archives REF: BPPAC-036-1979-C-AD