Piper Aircraft News Release: Extended Range for Cheyenne IIIs (1980)
News Copy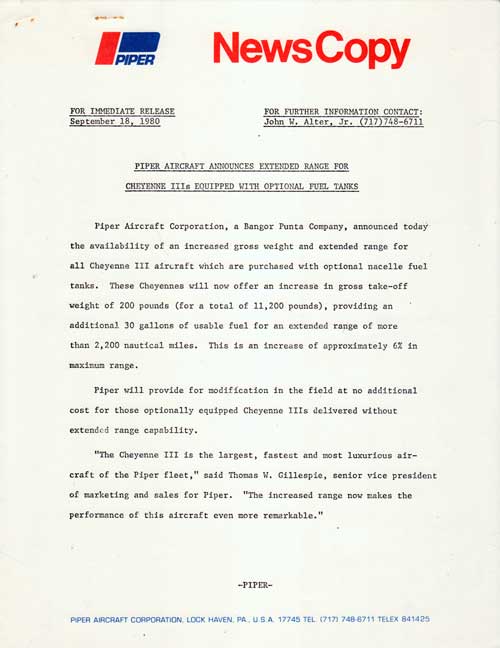 FOR IMMEDIATE RELEASE
September 18, 1980
For further information contact:
John W. Alter, Jr. (717) xxx-xxxx
Piper Aircraft Announces Extended Range for Cheyenne IIIs Equipped With Optional Fuel Tanks
Piper Aircraft Corporation, a Bangor Punta Company, announced today the availability of an increased gross weight and extended range for all Cheyenne III aircraft which are purchased with optional nacelle fuel tanks.
These Cheyennes will now offer an increase in gross take-off weight of 200 pounds (for a total of 11,200 pounds), providing an additional 30 gallons of usable fuel for an extended range of more than 2,200 nautical miles. This is an increase of approximately 6% in maximum range.
Piper will provide for modification in the field at no additional cost for those optionally equipped Cheyenne Ills delivered without extended range capability.
"The Cheyenne III is the largest, fastest and most luxurious aircraft of the Piper fleet," said Thomas W. Gillespie, senior vice president of marketing and sales for Piper. "The increased range now makes the performance of this aircraft even more remarkable."
PIPER
More airplane for the dollar.
Piper Aircraft Corporation, Lock Haven, PA 17745
Member of GAMA
A Bangor Punta Company
GG Archives REF: BPPAC-031-1980-C-PR