Piper Aircraft All Model Performance Chart 1979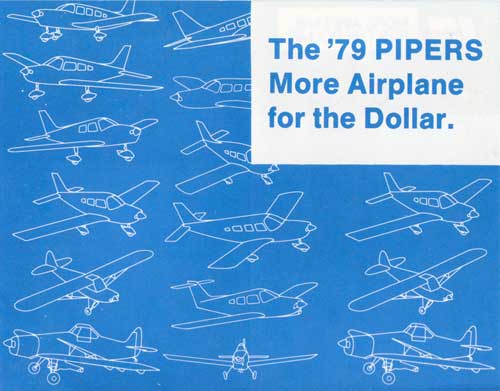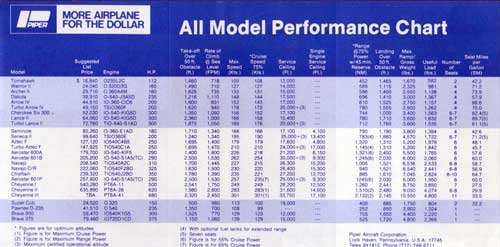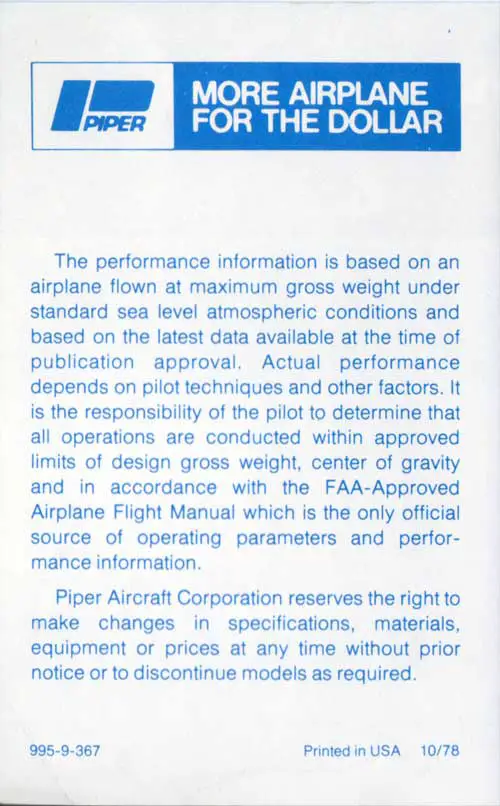 The performance information is based on an airplane flown at maximum gross weight under standard sea level atmospheric conditions and based on the latest data available at the time of publication approval.
Actual performance depends on pilot techniques and other factors.
It is the responsibility of the pilot to determine that all operations are conducted within approved limits of design gross weight, center of gravity and in accordance with the FAA-Approved Airplane Flight Manual which is the only official source of operating parameters and performance information.
Piper Aircraft Corporation reserves the right to make changes in specifications, materials, equipment or prices at any time without prior notice or to discontinue models as required.
Download the 1979 Piper All Model Performance Chart (Microsoft Excel 2003)
1979 Piper: More Airplane for the Dollar
* Figures are for optimum altitudes
(1) Figure is for Maximum Cruise Power
(2) Figure is for Maximum Range Power
(3) Maximum certified operational altitude
(4) With optional fuel tanks for extended range
(5) Seven seats
(6) Figure is for 55% Cruise Power
(7) Fiaure is for 65% Cruise Power
Publication: 995-9-367 | Printed in USA | Oct 1978
PIPER
More airplane for the dollar.
Piper Aircraft Corporation, Lock Haven, PA 17745
Member of GAMA
A Bangor Punta Company
GG Archives REF: BPPAC-005-1979-C-FLY